Emerging-market stocks, currencies have first gains in a week; Oil climbs amid OPEC push to agree production limits.
By
James Regan
and
En Han Choong
Bloomberg
November 15, 2016
The fallout from Donald Trump's election to the U.S. presidency showed signs of moderating in financial markets with benchmark Treasuries and emerging-market stocks advancing for the first time in a week amid a retreat in the dollar.
The yield on U.S. government bonds due in a decade fell from its highest level of the year and sovereign notes in Australia fluctuated after a three-day slide. Bloomberg's dollar index declined for the first time since Americans voted Trump in a week ago and an MSCI gauge of emerging-market stocks rebounded from a four-month low. Gold pulled out of its steepest slide in more than a year, while zinc led a rally in industrial metals. Crude oil rose from an eight-week low as OPEC members sought to agree output quotas.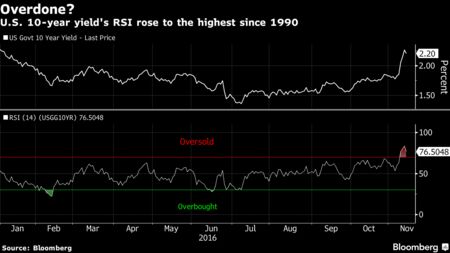 Trump won the Nov. 8 presidential election after pledging to cut taxes, spend more than $500 billion on infrastructure and restrict imports. His victory triggered a record selloff in global bonds last week amid speculation the proposed fiscal stimulus will fuel inflation and prompt a faster pace of interest-rate increases in the world's largest economy. There is some
skepticism
that Trump's proposals will be fully backed by Congress and technical indicators signaled many post-election moves in financial markets were excessive.
"Risks are elevated, and we are expecting further increases in volatility as markets attempt to second-guess the policies that might eventually come out from the U.S.," said Michael McCarthy, chief market strategist at CMC Markets in Sydney. "One of the challenges for markets is that all of these moves are not straightforward in terms of impact. In a lot of cases, we just have to see how things play out."
Federal Reserve Bank of Richmond President Jeffrey Lacker said Monday that easier fiscal policy may require higher rates, but it's too early for the central bank to react to potential policy changes by the incoming administration of president-elect Donald Trump.

Bonds
Ten-year U.S. Treasuries rose, pushing their yield down by four basis points to 2.22 percent as of 1:29 p.m. Tokyo time. The 41 basis point jump over the last three trading sessions marked the steepest climb in more than seven years and the 14-day relative strength index for the securities indicated they were the most oversold since 1990.
Ford O'Neil, who oversees about $100 billion in bonds for Fidelity Investments,
said
the sharp run-up in yields following the election may not be justified given that Trump will face resistance from Congress in getting his fiscal stimulus plans approved.
The yield on Australian debt due in a decade was little changed at 2.66 percent, the highest it's been since April. The Reserve Bank of Australia said in
minutes
of its Nov. 1 meeting that the risks to the global inflation outlook "were more balanced than they had been for some time." That follows a rebound in commodity prices and faster forecast growth in major advanced economies.
Currencies
Bloomberg's Dollar Spot Index, which tracks the greenback against 10 major peers, retreated 0.1 percent from a nine-month high. It jumped 3.2 percent over the last four trading sessions, the steepest rally since January 2009, amid speculation Trump's proposed policies will fuel economic growth and hasten interest-rate increases by the Fed. Futures indicate a 92 percent chance that borrowing costs will be raised at the central bank's December policy meeting.
The yen rose 0.3 percent to 108.11 per dollar. It slipped to a five-month low of 108.54 on Monday, having climbed as high as 101.20 as the U.S. election results came out on Nov. 9.
"The dollar's surge from around 101 to 108, just in a few business days, is like going over the speed limit, so a bit of a correction is natural," said Takuya Kanda, a senior researcher at Gaitame.com Research Institute Ltd. "The dollar is currently rallying on expectations only. But the policies Trump has called for are all dollar-positive. After pausing around 107 to 108, the dollar will resume its uptrend toward 110 yen by year-end."
South Africa's rand strengthened 0.8 percent, leading gains among emerging-market currencies. China's yuan sank as much as 0.3 percent to its weakest level since 2008, while India's rupee dropped 0.7 percent as trading resumed following a holiday on Monday.
Stocks
The MSCI Emerging Markets Index added 0.1 percent, after sliding 7 percent in the last four sessions. The Shanghai Composite Index retreated from a 10-month high and Hong Kong's Hang Seng Index rose 0.4 percent from its lowest close in three months.
Japan's Topix index gained 0.2 percent, headed for its highest close since April. A gauge of banking stocks jumped 2.6 percent, the best performance among 33 industry groups, following better-than-expected earnings from the nation's three biggest lenders. Mitsubishi UFJ Financial Group Inc., the largest, rallied as much as 5.8 percent.
Futures on the S&P 500 Index advanced 0.2 percent after the underlying benchmark lost less than 0.1 percent on Monday. Some of the world's biggest technology companies including Apple Inc. and Microsoft Corp. dragged the Nasdaq Composite Index down 1.1 percent last session amid concern over what Trump has said about international trade.
Commodities
Crude oil rose as much as 2.2 percent to $44.26 a barrel in New York, after sliding 4.3 percent over the last three sessions. Hedge fund manager Pierre Andurand said he sees a 70 percent chance that members of the Organization of Petroleum Exporting Countries will agree output limits at a Nov. 30 meeting and prompt a sharp rally in oil prices, despite disputes among its members.
"History has demonstrated that OPEC typically never reaches an agreement before the headlines," wrote Andurand, who won big by predicting the oil market's downturn in 2014. "Unfortunately, the noise surrounding negotiations is often misinterpreted by the media and most analysts who perceive bargaining techniques as a sign of a deal falling apart."
Zinc rallied 1.7 percent to its highest since January 2010 in London, while copper rose toward its highest level in more than a year. Traders should be more optimistic about the ability of China's ongoing infrastructure spending to underpin metals demand and sustain price rallies, according to Robin Bhar, an analyst at Societe Generale SA. The Asian nation accounts for about half of global consumption, the bank estimates.
Gold added 0.3 percent, rebounding from a five-month low. It slid 4.4 percent over the last three days as the dollar strengthened.
Article Link To Bloomberg: