Regional head says low oil price will drive consolidation; Bank won market share in region's bond sales this year.
By
Matthew Martin
Bloomberg
November 10, 2016
Deutsche Bank AG expects mergers and acquisitions to pick up in the Middle East and Africa next year after a "subdued" 2016, according to the head of the company in the region, Jamal Al Kishi.
Deals and initial public offerings will add to accelerating debt sales as governments seek to fill budget gaps caused by the oil slump, Al Kishi said in an interview in Dubai. Rising borrowing costs and slower growth will encourage private sector consolidation and fundraising, he said.
Next year "looks promising and there is a healthy pipeline of debt capital markets deals, mergers and acquisitions, and even some initial public offerings," Al Kishi said. By contrast, 2016 has "been a fairly subdued year for the investment banks in the region."
Bond sales in the region have been among the bright spots for securities firms and Deutsche Bank in particular, as IPOs and deals have been declining. The lender's market share for bond and Sukuk sales in the Middle East and Africa has increased even as the investment bank slid in its home territory. Deutsche Bank has struggled to stem a slide in its shares and maintain client confidence since the U.S. Department of Justice requested $14 billion in September to settle a probe tied to sales of mortgage-backed securities.
IPOs in the Middle East and Africa are on track for the lowest value in at least three years, with just $5.3 billion raised this year, according to data compiled by Bloomberg. The value of completed deals has dropped 48 percent from last year.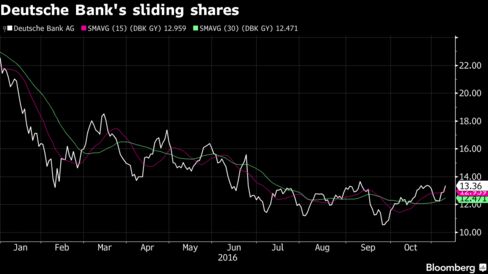 Bond sales, meanwhile, have benefited as energy exporters from Qatar to Abu Dhabi seek to buttress their finances. Debt sales in the Middle East and North Africa reached $73 billion this year, the most since Bloomberg began compiling data in 2005. Deutsche Bank was one of the bookrunners on Saudi Arabia's debut $17.5 billion bond last month, the biggest emerging-market issue this year.
The bank is ranked seventh for debt sales from the Middle East and Africa, rising eight places from 2015, according to data compiled by Bloomberg. In contrast, the lender has lost market share across investment banking in Germany and Europe, Alasdair Warren, the head of Deutsche Bank's corporate and investment bank in Europe, the Middle East and Africa, said in an interview on Bloomberg TV
last month
.
Clients in the region continue to have "esteem and affection" for Deutsche Bank and have an "unwavering desire to grow their long-standing partnerships with us," Al Kishi said.

Saudi Bond Deal

The success of the Saudi bond deal -- it drew $67 billion of offers -- will help encourage more companies and financial institutions to sell bonds in the coming year, he said. Lower valuations as a result of slower economic growth in the region will also help drive M&A, he said.

The slump in crude prices is forcing spending cuts, privatizations and consolidation among state-owned firms. Abu Dhabi said in June it plans to merge sovereign investment fund Mubadala Development Co. with International Petroleum Investment Co.. That followed a plan to combine its two largest lenders, National Bank of Abu Dhabi PJSC and First Gulf Bank PJSC.

"Looking across M&A, debt capital markets, IPOs, hedging and financing transactions, the pipeline is looking fairly robust going into the new year," Al Kishi said. "Government reforms, privatizations and the decline in oil prices are all driving that, coupled with the fact that liquidity from the international community is in decline."
Deutsche Bank isn't the only bank to express optimism. UBS Group AG's investment banking business is set to have its
best year
advising on Middle Eastern deals and sees a continued revival in mergers and acquisitions, Alberto Palombi, the bank's head of Middle East and North Africa investment banking, said this month. Omar Iqtidar, Citigroup Inc.'s head of investment banking in the Middle East, said Saudi Arabia's restructuring "could translate into a
fantastic wallet"
for the banks.
Deutsche Bank is still hiring in some areas in the Middle East and Africa, Al Kishi said, even as the bank is eliminating about 9,000 employees globally from 2015 through 2018. Deutsche is introducing "
extensive hiring restrictions
," CEO John Cryan wrote in a letter to staff last month.
"Over the course of the year we have grown headcount in some areas, and tweaked it in others," Al Kishi said. "But nothing beyond what we normally do. Emerging markets have always been an area where we've done extremely well compared to our peers, and within that the Middle East and Africa is an important area."
Article Link To Bloomberg: