Inflation remains at just 0.5 percent with core rate stuck; Draghi to speak at Frankfurt's Euro Finance Week gathering.
By
Carolynn Look
Bloomberg
November 14, 2016

Mario Draghi reckons the European Central Bank has engineered a moderate and steady recovery in the euro area, and economists agree.

Respondents in a Bloomberg survey predict a roughly consistent pace of growth right through 2017. That revival from a double-dip recession and debt crisis has depended heavily on an exceptionally loose monetary stance, meaning that when the ECB president and his colleagues speak in Frankfurt this week, investors will be seeking hints on how long that policy will last.

It's not a simple topic. Donald Trump's surprise victory last week in the U.S. presidential election, combined with the looming exit of the U.K. from the European Union, prompted Governing Council members Jens Weidmann and Vitor Constancio to warn that high uncertainty is clouding growth prospects. As the ECB prepares new economic forecasts for its December meeting, it must ponder what the next speed bumps might be -- such as populist gains in elections in the currency bloc -- and how to overcome them.

"The uncertainty facing the economy is there; we've got Brexit, no one knows what Trump will do, and we will see elections that have clear anti-European and anti-trade trends," said Jens Kramer, an economist at NordLB in Hanover, Germany. "That will set the wrong impulses for growth, and probably the ECB has this in the back of their minds."


Draghi's View
Financial policy makers and executives are meeting in Frankfurt for a week-long series of conferences known as Euro Finance Week. Constancio will speak at the
opening of the event
on Monday, with other speakers including Deutsche Bank Chief Executive Officer John Cryan before Draghi, Weidmann and German Finance Minister Wolfgang Schaeuble make appearances on Friday.
On Tuesday, economic data will probably confirm that the 19-nation euro area grew 0.3 percent in the third quarter. Figures will also be released for Germany, Italy, the Netherlands and Portugal.
Economists in the Bloomberg survey forecast the same pace of growth this quarter and in early 2017, with a slight pickup to 0.4 percent in the third quarter. They see inflation -- which was just 0.5 percent last month -- slowly accelerating to 1.3 percent by the end of 2017. That's still well below the ECB's goal of just under 2 percent, suggesting that officials may decide they have to extend their quantitative-easing program past the current end-date of March.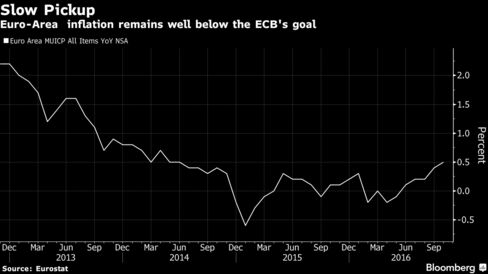 A key threat to the euro zone, where exports are compensating for mediocre domestic demand, might be a less trade-friendly global atmosphere. Trump pledged throughout his campaign to dismantle or renegotiate deals with some of his country's major trading partners. Meanwhile, the U.K. is set to formally begin Brexit talks early next year.
Yet the attention of some of Europe's leaders may be distracted by a referendum in Italy and elections in France, the Netherlands and Germany over the next 12 months. All are seeing a rise in populist opposition.
The ECB's biggest concern is that inflation is only slowly picking up and the core rate, which excludes items such as food and energy, has failed to gain much traction. It's 80 billion-euro ($89 billion) QE program will be reviewed on Dec. 8, and Executive Board member Benoit Coeure said last week that the monetary stance will stay "very accommodative" until price growth is firmly on track toward the goal.
Economists in a previous survey in
October
said the central bank is only likely to signal a readiness to wind down asset purchases when inflation holds above 1.5 percent for at least three consecutive months. Economists in the latest poll see it averaging 1.5 percent only in the second quarter of 2018.
Opponents of ultra-loose monetary policy want to see higher interest rates sooner than that. Coeure's response -- aimed at governments -- is that tightening requires a stronger economy, and that can only come if administrations push through structural reforms.
"If the European economy regains the ability to sustainably create growth, interest rates will return to levels more favorable to savings," he said on Friday. Interest rates are low "because growth is still weak. It is because our economies are less able than in the past to create growth."
Article Link To Bloomberg: