Analysts see Mexico bearing brunt of president-elect's wrath; But export agency warns of economic pain from any new tariffs.
Bloomberg
November 10, 2016
Donald Trump's victory and protectionist rhetoric drove some investors away from Mexico, prompting warnings of tariffs and slower growth while being met with a shrug by Canadian trade experts, who largely expect the status quo.
The Republican president-elect campaigned in part on the U.S. reopening the North American Free Trade Agreement with its second and third biggest trading partners. His victory also comes amid a brewing
softwood lumber dispute
with Canada and uncertainty over the Trans-Pacific Partnership.
With Trump, however, all Nafta members are not created equal. His pledges have targeted Mexico rather than Canada, which is the top trading partner for dozens of states and the biggest overall buyer of U.S. exports. Canada signaled it's open to Nafta talks on Wednesday, while several officials familiar with the trade file said they don't expect major changes along the northern border.
"Nafta's alive and well and will survive," said David Wilkins, a partner at law firm Nelson Mullins Riley & Scarborough LLP who served as U.S. ambassador to Canada from 2005 to 2009. "There's so much synergy between the two countries, so much compatibility between the two countries -- workers on both sides of the border, jobs being created, families being fed. I don't see that changing. In fact, I see that improving."
Canadian
stocks closed higher
after Trump's victory, with the S&P/TSX Composite Index adding 0.7 percent at 4 p.m. in Toronto. Some companies dependent on U.S. trade fell, including auto-parts maker Magna International Inc. and firms such as Canfor Corp. in the forestry sector, while TransCanada Corp. rose on hopes that Trump will approve the Keystone XL pipeline. Canada's dollar, meanwhile, pared losses after falling to its lowest level since March.

Tariff Impact
Trump's protectionist rhetoric has been aimed squarely south -- to Mexico, along with pledges of migrant deportations and building a border wall. As its citizens
recoiled in horror
at the U.S. election result, Mexico's benchmark IPC index fell 2.2 percent in trading Wednesday. Even small tariffs imposed by the U.S., and certainly any collapse of Nafta, would have a sharp impact on Mexico's
currency and economy
.
Canada's trade ties are more balanced. Export Development Canada, in a study ahead of the U.S. vote, outlined three possible Nafta outcomes of a Trump victory. One included a 3.5 percent tariff on all Canadian goods and services, which the government-owned trade finance agency forecast would shrink the economy by C$38.3 billion ($28.5 billion) annually and cost 362,000 "person years," or a 2 percent reduction in total employment. A 10 percent tariff, which EDC described as a more unlikely scenario, would lower Canada's gross domestic product by C$79.5 billion and reduce employment by about 4 percent.
"The range of potential actions that could be taken at the moment is very wide," said Peter Hall, EDC vice-president and chief economist. "Elections are full of rhetoric. You never know if that's going to turn into reality, and that's the big dilemma at the moment."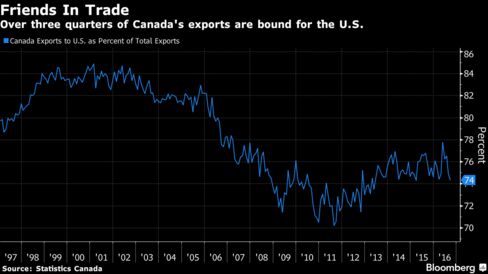 There are 35 U.S. states that count Canada as their top export destination, he said, meaning any trade war with Canada could cost Trump the types of jobs he pledged to save. And yet any Nafta changes to Mexico will invariably be felt in Canada, according to Thomas Caldwell, chief executive officer at Caldwell Securities Ltd.
"This can have an impact on Canada, definitely, particularly if he's focused on Nafta," Caldwell said. "If he's going to hit Mexico he's going to hit us as well. That has significant ramifications."
Trudeau's Message
While German Chancellor Angela Merkel balked somewhat at Trump's election, Canadian Prime Minister Justin Trudeau congratulated him and likened the Republican's win to his own victory in Canada's election last year. Trudeau -- a feminist who is pro-trade and pro-immigration -- and his Liberal Party base their core economic message around building Canada's middle class.
"We're hearing people on both sides of the border saying they just want a fair chance to succeed," the prime minister said in a speech to an Ottawa conference Wednesday. David MacNaughton, his ambassador in Washington, said the U.S.-Canada trade relationship is deeply integrated and mutually beneficial. "I think the Trump people understand that," MacNaughton told reporters on a teleconference.
Trudeau signed a
trade pact
with the European Union last month that could become a hedge against any U.S. protectionist measures. Canada could also see a boost in trade from any nations Trump freezes out, though it will have to negotiate bilateral trade pacts in the absence of new multilateral agreements, according to Stockwell Day, a former Canadian trade minister.
Despite the president-elect's rhetoric, "I really think Canada is in an enviable position here," Day said. "They're going to treat trade differently, but we've never really heard him talking about massive numbers of factory jobs going to Canada."

'Business As Usual'

The Nafta countries are also members of the TTP. Signed last year, the 12-nation deal is due to be ratified no later than early 2018 and is opposed by the president-elect. "It will be interesting to see if Trump completely backs away from TPP, or tries to reopen negotiations in some way," said Adam Taylor, a consultant at Ensight Canada who worked in the office of former Canadian Trade Minister Ed Fast. The previous Conservative government kept bilateral trade talks with Japan on the back-burner in case TPP fell through, Taylor said.

Nafta originally developed out of a bilateral pact between Canada and the U.S. If the deal is canceled, the previous Free Trade Agreement would come back into force, MacNaughton said, adding he "can't imagine" Trump would want to toss out that pact as well.

"I think it's going to be largely business-as-usual," Taylor said, adding there's a potential upside. "If Trump starts closing doors, an open, pro-investment, pro-trade country like Canada could do well."
Article Link To Bloomberg: