Climate not a priority for populist movements in U.S., Europe; Concern for UN talks as Obama's leadership gives way to Trump.
By
Jessica Shankleman
Bloomberg
November 21, 2016
Populism is drawing momentum from environmentalism in the U.S. and Europe, threatening the world's effort to rein in climate change.
Donald Trump's election in the U.S., the U.K. Independence Party and Marine Le Pen's ascent in France all represent a break with political leaders who made the environment a priority. All three are skeptical climate change is happening and are resistant to international projects like the United Nations global warming talks.
Envoys from more than 190 countries gathered by the UN made
progress
this weekend in their work to contain fossil-fuel emissions and keep a lid on temperature increases. Two weeks of discussions in Marrakech, Morocco, were overshadowed by the election of Trump, who has called climate change a hoax. Many delegates left the city concerned about the forces working against them.
"If climate change is labeled as an elitist, global project, which is what UKIP and Le Pen want to do, then it's dead," said Nick Mabey, a former climate adviser to the U.K. government now leading the environmental consultant E3G.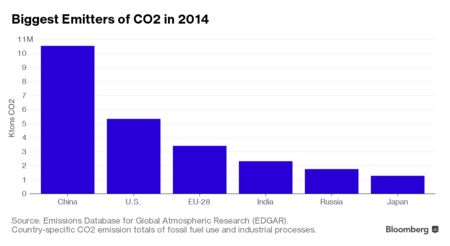 Trump takes office in January and has said he'll
pull out
of the Paris agreement negotiated through the UN. That's a sharp contrast to outgoing President Barack Obama, who spent six years concentrating on the issue, resulting in a historic agreement with China in 2015 to work together on lowering emissions, prompting dozens of developing economies to follow suit. Trump's stance is echoed by right-wing movements in Europe:
-- Le Pen's National Front doubts global warming is linked to human activity and has promoted a "
New Ecology
movement" emphasizing national programs on the environment over global rules like the ones coming from the UN talks.
-- UK Independence Party leader Nigel Farage called the fight against climate change "one of the biggest and stupidest collective misunderstandings in history,"
saying
the science isn't settled and technologies to defeat the problem like renewable energy are damaging to the economy. UKIP's push to leave the European Union was endorsed by British voters on June 23, leaving Farage more influential in shaping government policy.
Delegates in Marrakech made progress in writing a rulebook on how to implement the 13-page Paris deal. They also set out a work plan for reviewing progress on emissions. A last-minute dispute involving India and Bolivia kept negotiators working into early Saturday, hours past their deadline to finish and underscoring the tensions that remain between rich nations and poor ones on how quickly to act.
India and Bolivia held out for more comprehensive discussions on a list of pre-2020 actions, including for when the most-polluting nations would curb emissions. They were concerned that negotiators were allowing other issues to slip down the agenda, such as long-term finance for climate projects. In the end, the envoys agreed to discuss the issues next year.
China, which for years acted as a spoiler at the UN talks, has flipped its role and now is lecturing the U.S. and Europe on the importance of the issue. Vice Foreign Minister Liu Zhenmin ripped into
Trump's claim
that China invented the climate issue and reminded Western envoys of the need to act.
"The European Union has been a leading player in the climate change negotiations in the past 20 years," Liu said in Marrakech. "We hope the European Union will continue to play its role. A continuation of the support of the climate change convention, the UNFCCC, and the Paris Agreement would be the responsibility of the U.S., it would be the liability of the U.S. to continue to support this process."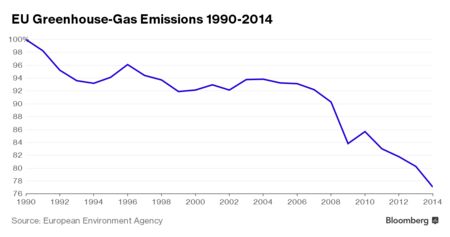 Brazil, which was caught up in the 11th-hour spat with India and Bolivia, reminded envoys how delicate the talks are, noting careful diplomacy is needed to keep building on the goals set out in Paris.
"The Paris Agreement as it is, is not implementable," said Antonio Marcondes, Brazil's lead negotiator at the talks. "We agreed on Paris, but now we have to go down to minute issues that are very important, which is a very laborious task."
Next Round
As if to emphasize international attention seeping away from the issue, the UN had trouble finding a host for next year's talks. The annual UN climate jamboree drew more than
22,500 diplomats
, media and environmentalists to Marrakech. In recent years, it was held in glittering resorts from Cancun, Mexico, to Durban in South Africa and Bali, Indonesia. And as recently as 2011, Asian nations including South Korea and Qatar competed for rights to host.
When it came time to nominate a venue for 2017, only Fiji stepped forward but will hold it at the secretariat of the UN Framework Convention Convention on Climate Change in Bonn. If that leaves the UN process lacking momentum, more concerning is the direction of politics in the U.S. under Trump and in Europe after elections in France and Germany next year.
The U.S. will "absolutely not" lead on climate under Trump in the way Obama did, said Robert Stavins, a Harvard University professor who formerly advised the Environmental Protection Agency in the U.S. "Given what's going on in France with the ascendancy of Le Pen, maybe Germany will become the last bastion of liberal western democracy. But we can't be sure of that either."
Article Link To Bloomberg: