From the South China Sea to Ankara, geopolitics are back; Troubling headlines have managed to slow the ascent in stocks.
By Dani Burger and Brian Chappatta
Bloomberg
December 20, 2016
The uncanny resilience that marked global financial markets in 2016 is getting one last test in the year's final days.
From
Ankara
to
Berlin
and the South
China
Sea, troubling headlines are suddenly buffeting investors once more as 2016 winds down. While the flurry of bad news has kept traders on edge and been enough to cause currencies and stocks to stumble, nothing yet landed has put them down for the count.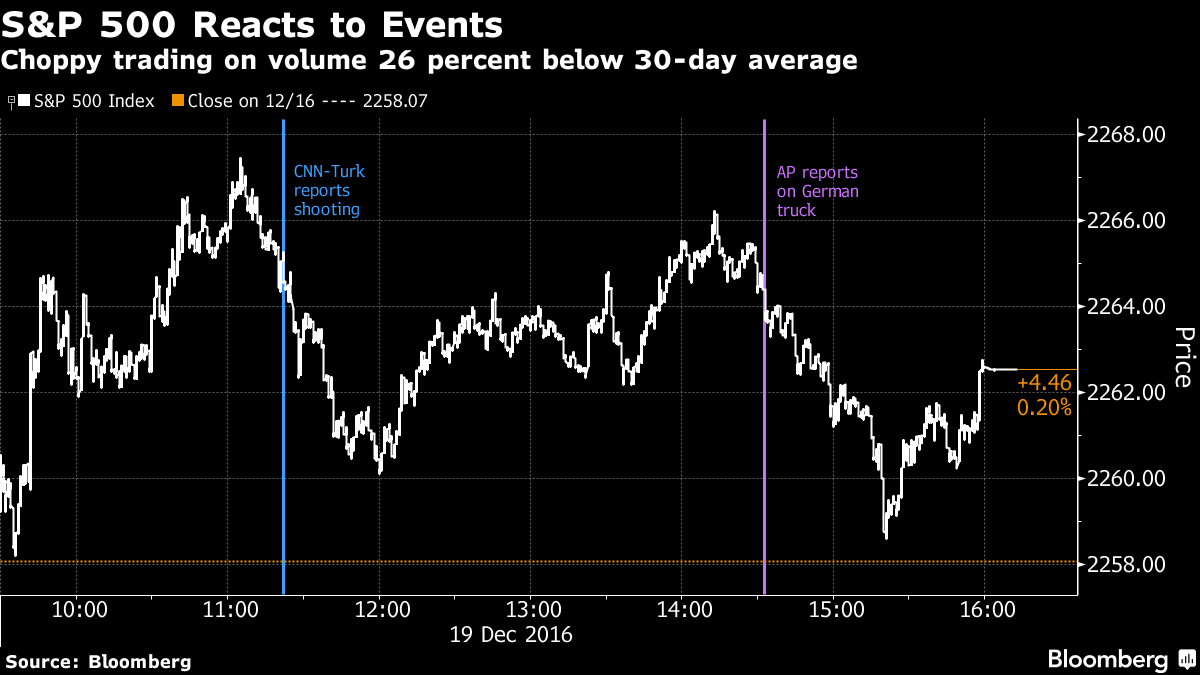 About the worst that can be said is that equities are struggling to add to a month-long post-election rally that took major U.S. benchmarks to records while bonds get a respite from the fiercest selloff since 2009. Reactions may be exacerbated as volume thins before the holidays, but to call them violent would be an overstatement
"The market is certainly not as strong as we were earlier," said Philip Orlando, who helps oversee more than $360 billion as chief equities strategist at Federated Investors Inc. in New York. "There are some investors who might see something like the assassination in Turkey and the potential terror attack in Berlin as opportunities to lock in profits with a couple of weeks left in the year."
Investors seem loath to give up gains that came so hard in 2016. Sure, equity volatility is near a five-year-lows and the Dow Jones Industrial Average a whisker shy of 20,000, but few who traded through Britain's secession vote or the U.S. presidential elections would call 2016 a tranquil year.
Lately it's been a rapid-fire gut check for bulls. First came the seizure of an unmanned U.S. drone in the South China Sea. Then it was the assassination of Russia's ambassador in Turkey's capital. Late Monday a report said nine people died after a truck mounted the pavement and rammed into crowds at a Berlin Christmas market.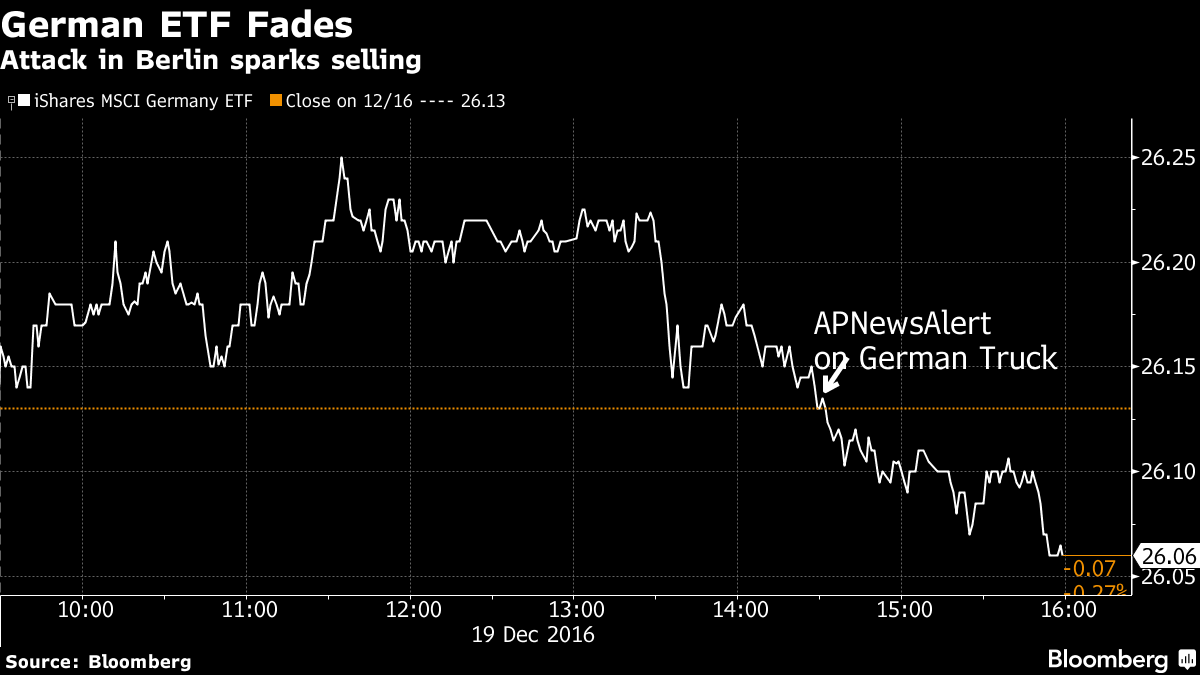 It's not that the headlines had no market impact. Fueled by reports that China's Navy seized a craft deployed by a U.S. oceanographic vessel in international waters, the benchmark 10-year U.S. yield dropped almost seven basis points in less than two hours, according to Bloomberg Bond Trader data. Japan's yen halted a slide and gold rebounded from a 10-month low in the past two days.
The one-two punch in Ankara and Berlin sent 10-year U.S. yields down five basis points, the most in two weeks. The benchmark rate, even amid the heightened risks, remains close to the highest since 2014. It has climbed from 1.85 percent on Nov. 8, America's Election Day.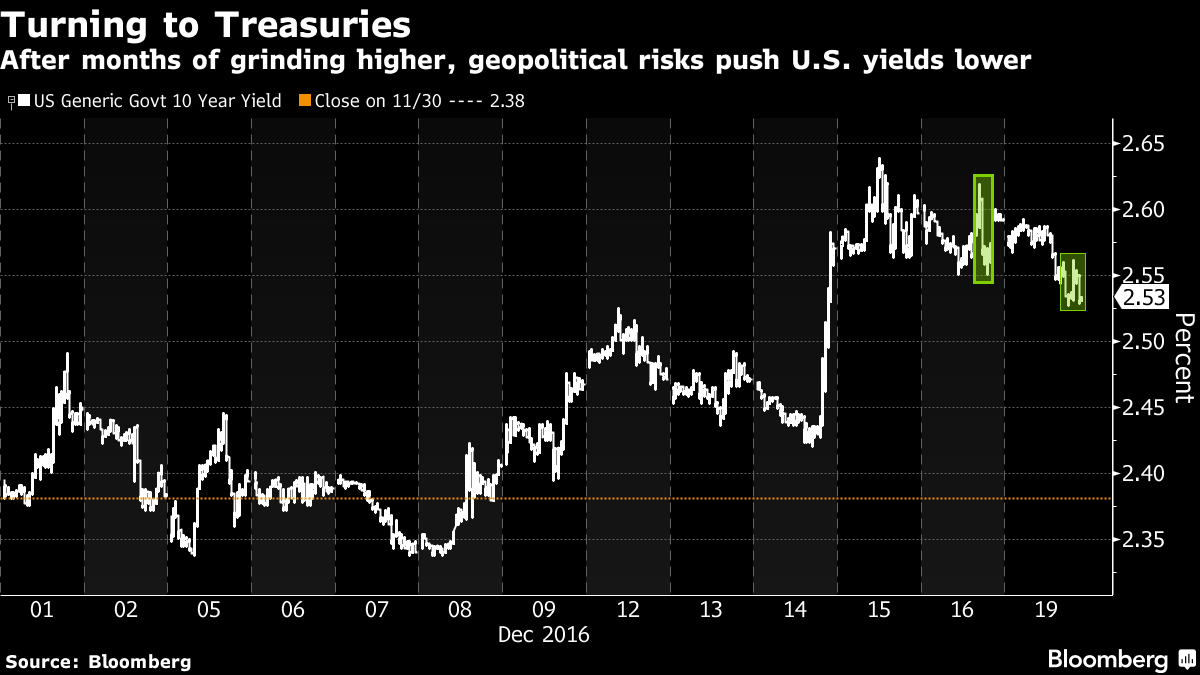 "You might certainly see a big move downward on the assassination and what's perceived to an terrorist attack on the same day, but we are just not seeing that," Joseph Veranth, chief investment officer at Dana Investment Advisors in Brookfield, Wisconsin, which manages $7 billion, said by phone. "The market is staying in this narrow range. I'd say it's more of market indifference than resilience. It's a quiet market headed into the holiday already."
Turkish assets proved vulnerable to the renewed tension in that country. The lira declined 0.6 percent against the dollar to a fresh low and a U.S.-listed ETF tracking equities in the nation slid almost 2 percent. A fund that follows German stocks erased gains to finish 0.3 percent lower.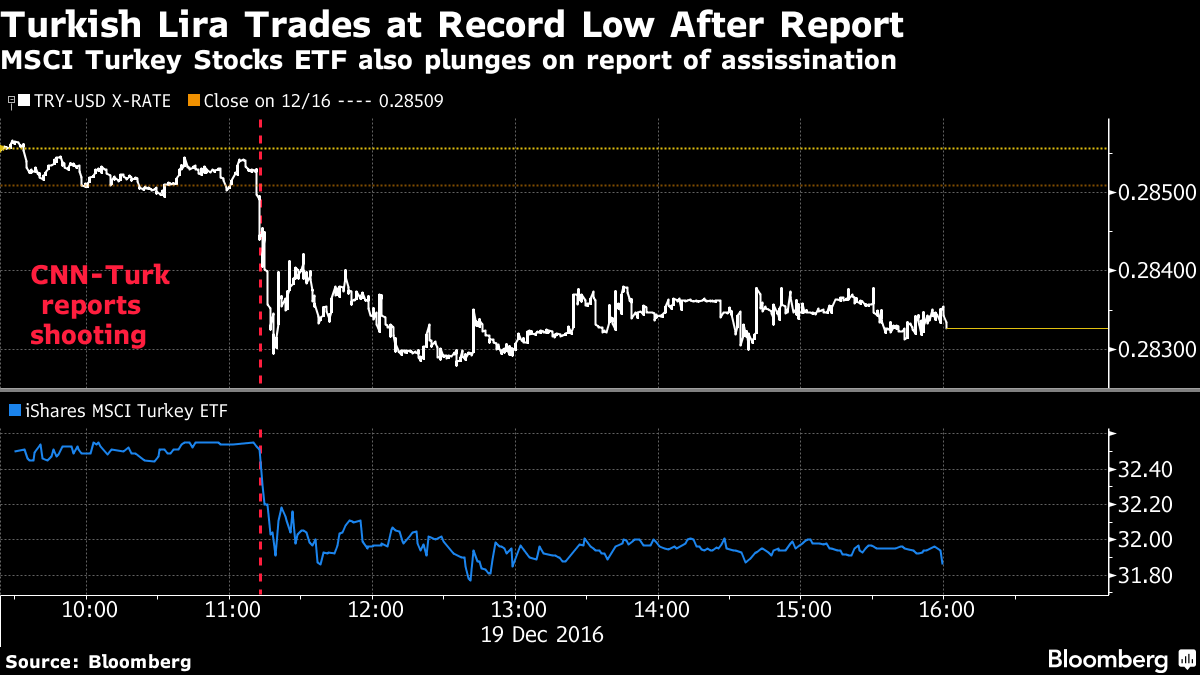 That most markets should prove inured to shock should surprise nobody after the last 12 months. While strategists were breathless in their forecasts for calamity prior to both Brexit and Donald Trump's election, neither event proved more than a temporary setback for bulls. More than $2 trillion has been added to global equity values in 2016 and the S&P 500 its sixth annual advance in eight years.
"You really have to start to question the crowd," Fundstrat strategist Tom Lee said in a Bloomberg TV interview. "The consensus really spent most of this year thinking, 'We're going to have a recession. The expansion is over.' It turns out after November, all of a sudden, everyone is excited about the economy. Nothing has changed."
Article Link To Bloomberg: