Markets have yet to price in "the mother of all fiscal stimuluses," says BofA's David Woo.
By Luke Kawa
Bloomberg
December 13, 2016

At the heart of the major market moves since Nov. 8 lies a simple belief: upon taking office, President-elect Donald Trump will reflate the U.S. economy.

Despite the magnitude of some of the moves in currencies and bond yields, Bank of America Merrill Lynch Global Head of Rates and Currency Research David Woo doesn't think the markets have adequately adjusted to how the macroeconomic backdrop will shift under the new administration.

Trump and Republicans in Congress are poised "to unleash the mother of all fiscal stimuluses in the next two years," he said in a phone interview. Woo also outlined the two indicators he's keeping an eye on to tell him when this new macro environment has been fully priced in: consensus growth forecasts and market-implied pace of rate hikes by the Federal Reserve.

Economists surveyed by Bloomberg are calling for the U.S. economy to grow by 2.2 percent in 2017, a far cry from what Trump and Steven Mnuchin, his pick for Treasury Secretary, believe is possible.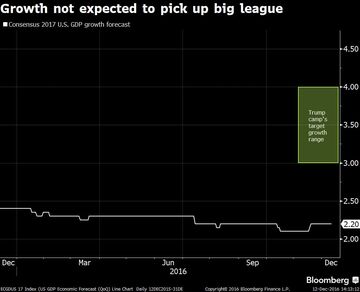 A consensus estimate in the neighborhood of 2.7 to 2.8 percent, according to the strategist, would signal that the magnitude of fiscal stimulus' effect on U.S. growth was appropriately embedded in the market psyche.
Similarly, what investors are pricing in for the Fed through 2018 is not consistent with the kind of pick-up in growth that Trump and Mnuchin aspire to, said Woo.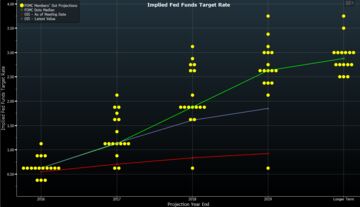 "When those things change, I think it'll be priced in," he said.
To be sure, in some segments of the market -- namely copper -- Woo thinks the reflation trade is already overdone. He doesn't expect an impulse from infrastructure spending until near the end of 2017 at the earliest, seeing corporate tax reform and a repatriation tax holiday as more palatable to the Republican-controlled Congress.
The key risk to the strategist's emphasis on fiscal stimulus-inspired upside risks to growth is that the new administration gets bogged down in the swamp, and proves unable to expediently make progress on pro-growth measures.
"With this new government, speed is going to be of the essence here," he said. "Within the first 100 days, whether or not they'll be distracted is very key."
To this end, he highlighted Trump's
possible Secretary of State candidate
, Exxon Mobil Corp. Chairman and CEO Rex Tillerson, as a nomination that could potentially cause an argument in the Senate, wasting some of the new president's political capital -- and more importantly, time.
But given the forward-looking nature of markets, Woo expects that investors won't bother to (or be able to!) wait for evidence of reflationary policies from the new administration.
"A lot of the Trump trades are going to get priced in by inauguration -- as for what happens after that, who knows," he warned. "People will be likely to give him the benefit of the doubt and they can't afford to miss this trend."
Article Link To Bloomberg: