By
Robert Burgess
The Bloomberg View
January 25, 2017
It's as if the U.S. election never happened, at least in emerging markets.
The thinking was, developing economies would suffer mightily under U.S. President Donald Trump's protectionist policies. And while they took a beating in the weeks after Nov. 8, they have since staged an
impressive rebound
, with the MSCI EM Index recouping all of its losses, to close at the highest level since October. Stock markets in Brazil, Argentina, Africa, the Philippines and Chile have been among the best performers in the comeback that started a month ago.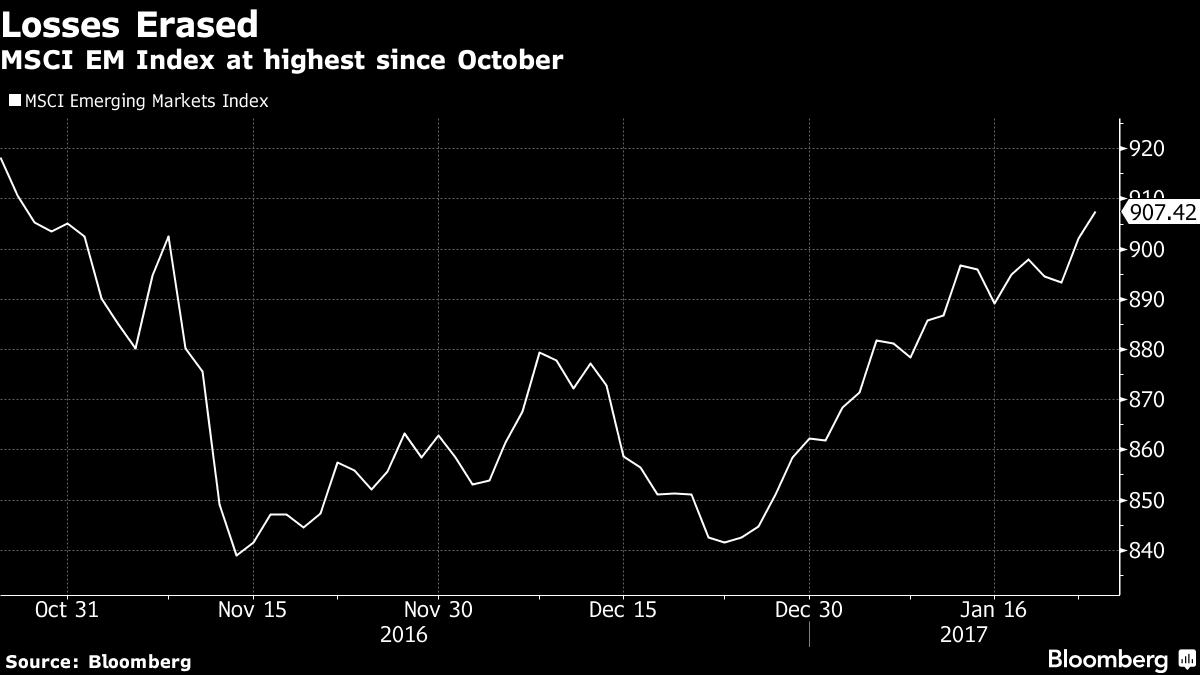 Take Brazil, which attracted $15.4 billion in foreign investment last month, more than twice the amount expected by economists in a Bloomberg survey, and the most since December 2010. Confidence is so high that even troubled Egypt decided it was an ideal time to launch a $4 billion bond sale. Morgan Stanley strategists are wary. They told clients in a note today that weak global growth, led by China's slowdown and the rise of protectionist policies, may prove too much to overcome.

Cyclical Uptick
The rally in emerging markets, whose economies are largely tied to the production of raw materials, coincides with a big gain in commodities. The Bloomberg Commodity Index has risen about 8 percent from its lows in the days after the election. While oil's strength is widely known, natural gas, copper, aluminum and soybeans have been the real winners. "We're seeing a
cyclical uptick
in global economic activity and that's driving demand, not only for oil but all commodities," Jeffrey Currie, head of commodities research at Goldman Sachs Group Inc., said in Hong Kong on Tuesday.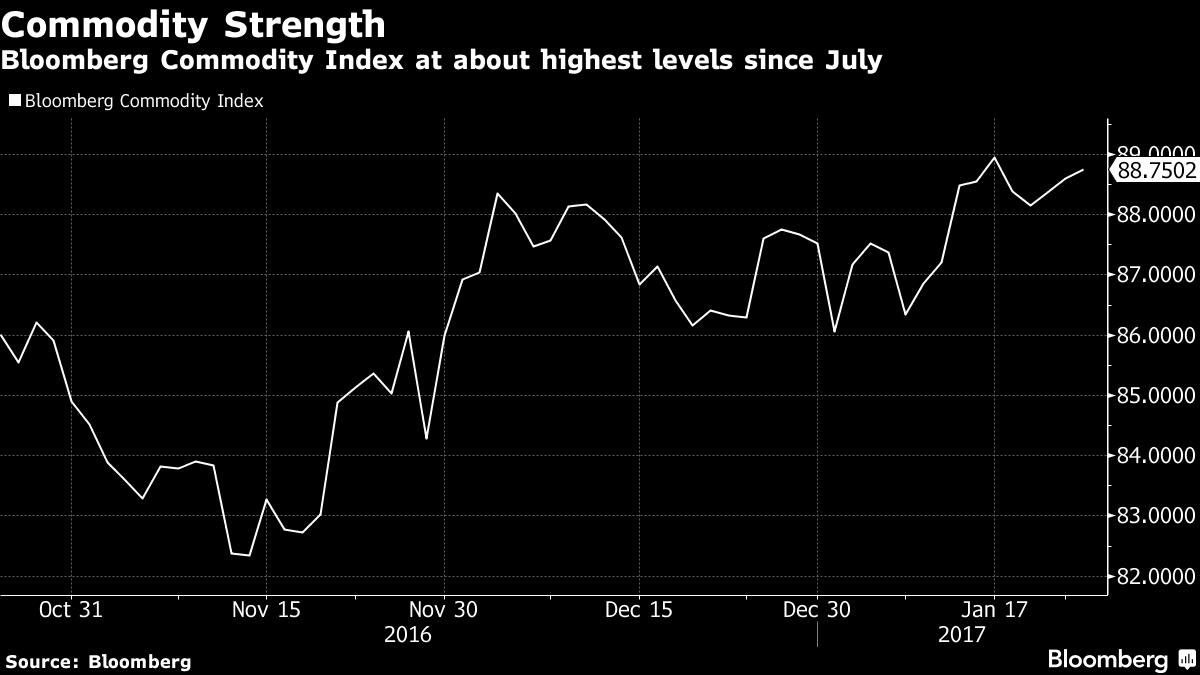 Dollar Slump
Recent weakness in the dollar is also a reason the emerging markets have bounced back and commodities have soared. That's because raw materials are mainly priced and traded in the greenback. Traders are less enamored with America's currency as it becomes clear that Trump may not find it so easy to push through his spending plans, which would contain inflation and make the Federal Reserve less inclined to raise interest rates at a faster pace. Comments by Treasury Secretary nominee Steven Mnuchin that an
"excessively strong dollar"
could have a negative short-term effect on the economy were being interpreted by some as reflecting the Trump administration's unease over the currency's rally in the weeks following the election.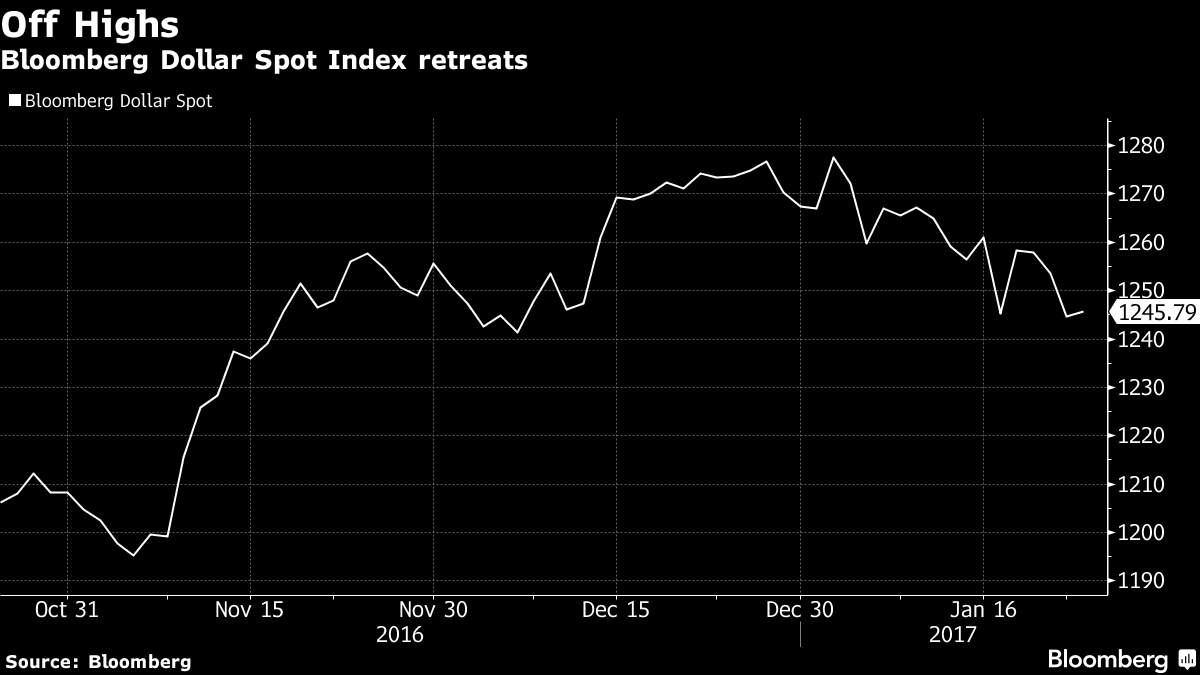 Debt & Deficits
Markets got more evidence today that debt and deficits don't really matter when it comes to the U.S. On the same day that Trump's pick for budget director Mick Mulvaney said the almost $20 trillion national debt is a problem that needs to be
"addressed sooner rather than later,"
the Treasury Department sold $26 billion of two-year notes at the lowest yields for that maturity since November. Investors submitted bids for 2.68 times the amount being offered, in line with the average over the past year and a level characterized as decent by strategists at BMO Capital Markets, given that the Federal Reserve meets next week to discuss monetary policy. The auctions continue tomorrow, with the U.S. seeking to raise $49 billion from the sale of two-year notes with floating rates and five-year notes with fixed rates.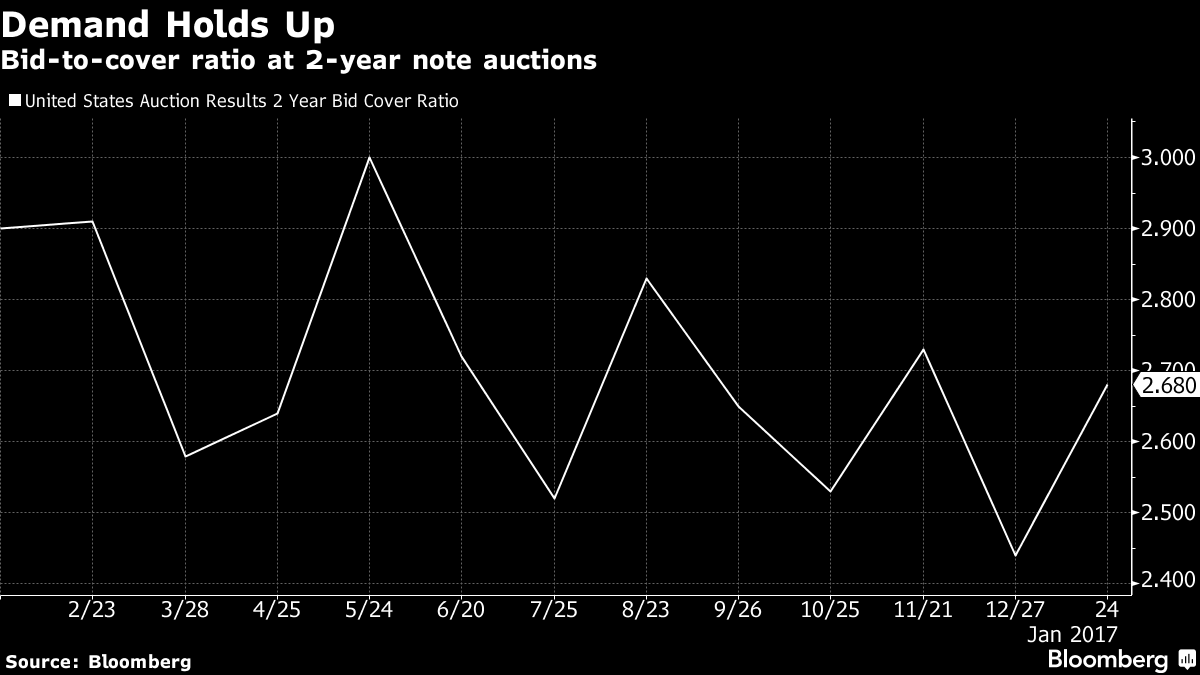 Canada Stocks
Trump handed Canadian investors a gift today when he took steps to advance construction of the Keystone XL and Dakota Access oil pipelines, projects that were blocked by the Obama administration over environmental concerns. The S&P/TSX Composite Oil & Gas Index soared 2.11 percent to close at its highest level since May 2015. There is a catch: Trump foreshadowed a
"renegotiation"
of terms while insisting that developers use U.S. steel. Canadian stocks overall closed at their highest since 2014. Canada's dollar also got a boost, as it rose the most in more than 6 weeks against a basket of developed-market peers.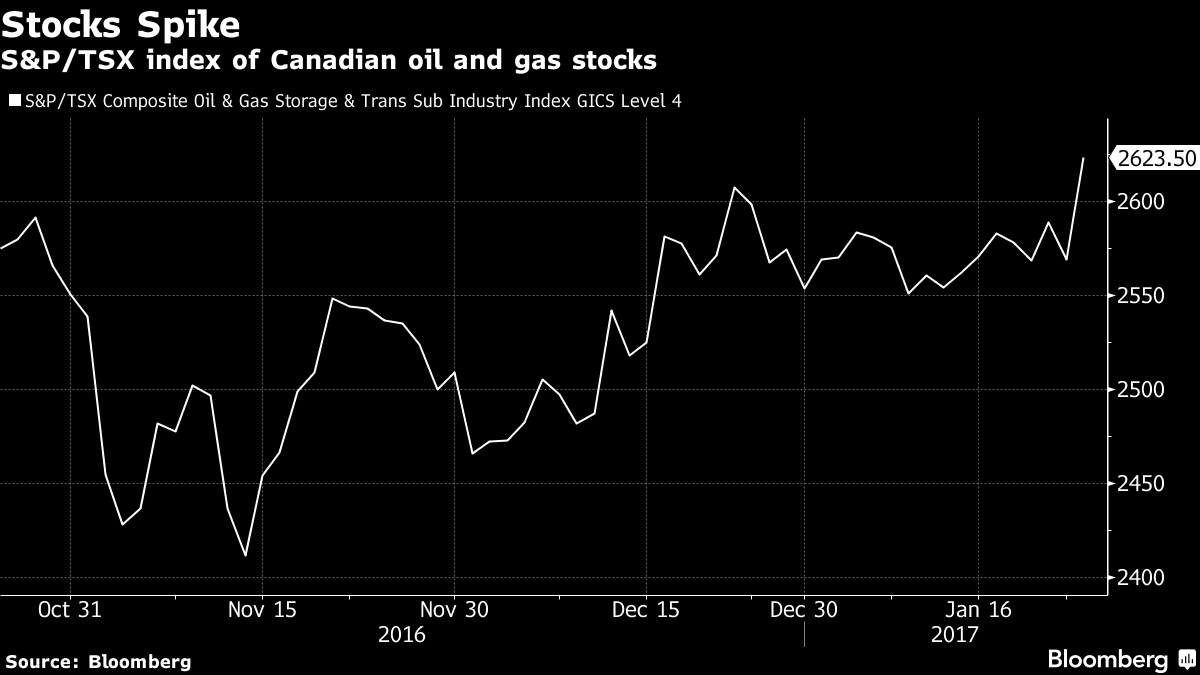 Tea Leaves

Things are looking up in the euro zone. The Munich-based Ifo institute said last month that German business sentiment rose to the highest level in almost three years in December, signaling growth in Europe's largest economy gained steam toward the end of the year. The next reading is released Wednesday, and although the consensus is for a small increase to 111.3 from 111, economic data in Europe has been coming in better that forecast on average in recent months, according to the Citigroup Economic Surprise Indexes.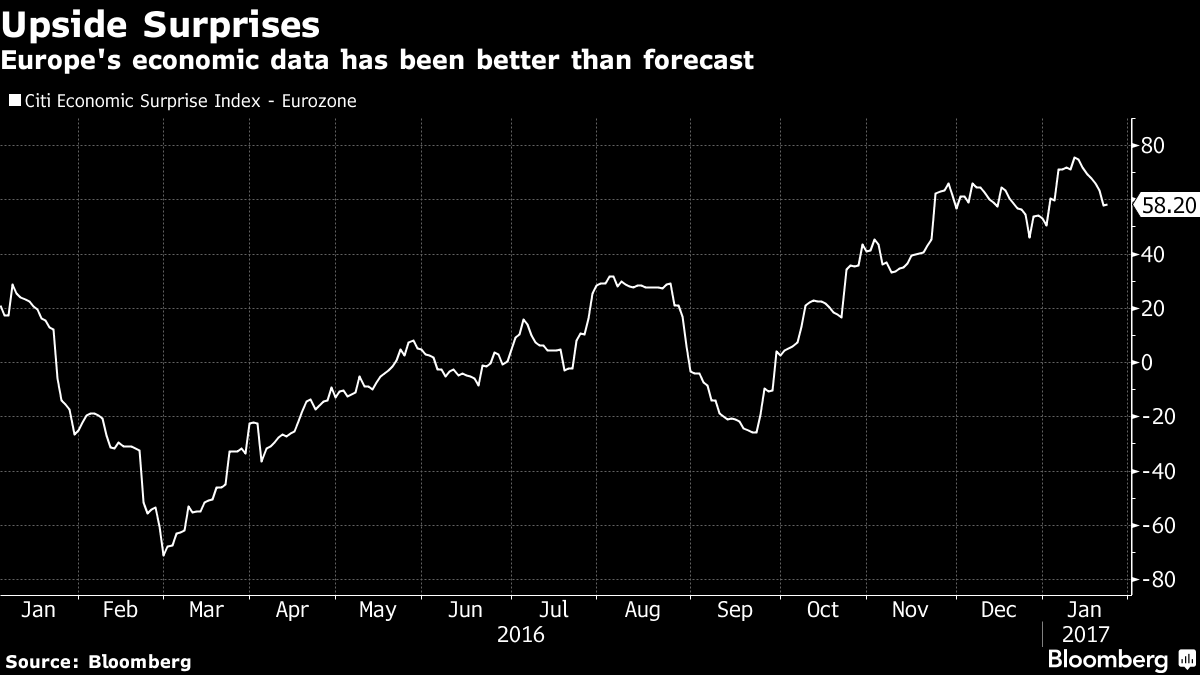 Article Link To The Bloomberg View: