BNP Paribas expects tighter U.S. policy to hurt bullion prices; Bank sees rate rises from Yellen in second half of this year.
By Ranjeetha Pakiam
Bloomberg
January 26, 2017

The Federal Reserve is about to go rapid-fire on interest rates, boosting them in the second half of this year, and following that with a rise in every single quarter of 2018, according to BNP Paribas SA, which expects the tightening to strengthen the dollar and push gold down toward $1,000 an ounce.

The U.S. central bank is seen raising borrowing costs later this year given the fiscally expansive policies proposed by Donald Trump, and the new president's agenda may help to lift wages in 2018, hoisting labor costs, the bank said in a Jan. 25 report. BNP was the top gold and precious metals forecaster in the fourth quarter, according to data compiled by Bloomberg.

"Gold may yet find support from higher inflation in the first half of 2017. But the Fed will pursue rates hikes in the second half of the year, keeping the dollar strong," commodity strategists Harry Tchilinguirian and Gareth Lewis-Davies wrote. "In 2018, BNP Paribas expects the Fed will hike every quarter."
The Fed raised rates in December for the first time in a year, and investors are seeking to determine the likely timing of further hikes as the world's largest economy shows signs of recovery and Trump gets down to business with vows to accelerate growth, create jobs and boost spending on infrastructure. The precious metal dropped after Trump's surprise win in November amid optimism about the outlook, then rebounded this month.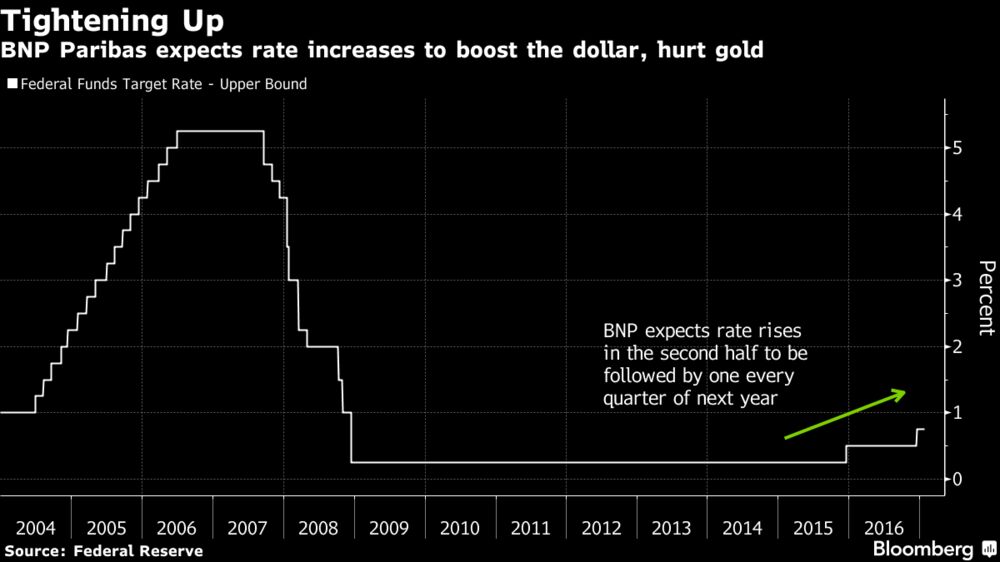 There's scope for gold "to hold on to the January gains, even possibly add to them," BNP said. "But as we near the end of 2017, expectations of Fed rate hikes will take over stewardship of gold prices. In turn, the path of least resistance for gold is likely to be downward again."

Bullion Outlook
Bullion for immediate delivery traded at $1,196.68 an ounce on Thursday, up 4.3 percent this year, according to Bloomberg generic pricing. Last year, it rose 8.1 percent to snap three annual declines even after dropping in the final quarter. Prices may average $1,210 this year, $80 more than previously forecast, and $1,100 in 2018, BNP said.
Last month, policy makers lifted the target range for the benchmark federal funds rate to 0.5 percent to 0.75 percent, and penciled in
three quarter-point increases
for 2017, according to the median of their quarterly estimates. While the BNP note didn't spell out in figures the size of the hikes it expects, a graph showed six quarter-point increases through to the end of 2018.
Fed Chair Janet Yellen has backed a strategy for gradually raising rates, arguing in remarks a day before Trump's inauguration last week the bank wasn't behind the curve in containing inflation pressures but nevertheless can't afford to allow the economy to run too hot. Yellen said wages had risen "only modestly" and manufacturing was operating well below capacity.
"For now, Yellen indicates that the Fed is not 'behind the curve' and that resource/capacity utilization is yet to be strained," the BNP analysts said. "This suggests rates hikes are more likely to come later, rather than earlier this year. In the interim, year-on-year inflation will pick up."
The forecast period for hikes given by the bank through to the end of next year goes beyond the end of Yellen's current term, which expires in February 2018. The rate-setting Federal Open Market Committee is set to meet next week for the first of its eight scheduled gatherings of 2017.
Article Link To Bloomberg: