Bonds and loans dropped to $17.5 billion last year from record; Oil trader BB Energy was only Gulf borrower in second half.
By Mohammed Sergie
Bloomberg
January 3, 2017

Energy companies in the Middle East reduced their borrowing by 26 percent in 2016 as an increase in oil prices late in the year provided revenue needed for exploration and production.

Bonds and loans issued by energy producers in the six-nation Gulf Cooperation Council declined 26 percent to $17.5 billion from a record $23.7 billion in 2015, data compiled by Bloomberg show. Oil trader BB Energy Gulf DMCC in Dubai was the only borrower in the final six months last year, taking out $200 million to refinance debt.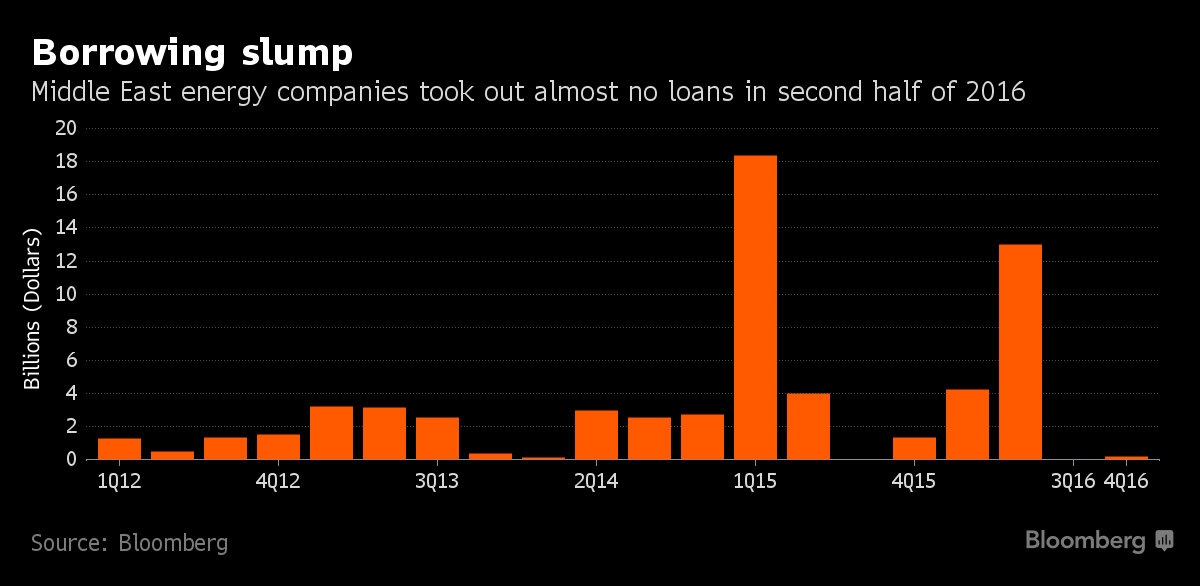 Crude oil rallied 16 percent in the final three months of 2016 as oil producers from OPEC and 11 non-OPEC nations agreed to cut output this year. Before the rally, lending had surged as energy companies turned to banks and investors for cash as borrowing costs fell and oil prices declined. The drop in lending later in the year was a boon to those who did borrow, with BB Energy increasing its refinancing from $175 million as the deal was oversubscribed.
"If oil prices go up a few notches, it will help them rely less on international borrowing," John Sfakianakis, director of economics research at Jeddah-based Gulf Research Center, said by phone Monday from Athens. "There's more money available for oil companies to keep within rather than go out and borrow."
Borrowers also held back as costs increased. The J.P. Morgan Middle East Composite Index of the region's debt yield, an indication of borrowing rates, averaged 4.7 percent last year compared with 4.43 percent in 2015. The gauge had dropped to a 16-month low in late August. In December, the U.S. Federal Reserve raised interest rates and forecast a steeper path for 2017 increases.
In contrast to industry, governments in the Gulf region increased borrowing following a halving of oil prices since 2014, forcing some of them to use foreign cash reserves. Saudi Arabia led sovereign issues, raising $17.5 billion in the biggest emerging-market bond sale in October.
Qatar
sold $9 billion in May and
Abu Dhabi
raised $5 billion in April.
"If oil prices continue to improve, producers will rely less on international borrowing, especially as costs increase as the Fed hikes rates," Sfakianakis said. "This year could be a repeat of 2016. More government borrowing, and not as much by oil companies."
Article Link To Bloomberg: