WTI-Brent spread highlights difficulty of incorporating vague policy pronouncements into financial markets.
By Luke Kawa
Bloomberg
January 25, 2017
President Donald Trump has dealt global oil markets a major case of whiplash.
After piling
into bets
that the benchmark prices for crude oil traded in New York and London would converge by December 2018, traders are now paring those wagers amid doubts that a Republican Congress will be able to push through plans for a levy on oil imports and a tax exemption for exports, moves that would incentivize production in the U.S. relative to bringing in oil from overseas.
While oil sold in London has traded at a premium of about $8 per barrel over the past five years, the spread between the West Texas Intermediate and Brent futures contracts had narrowed to almost nothing on anticipation of the policy change
before briskly retracing a sizable portion of the move
after Trump told the
Wall Street Journal
on Jan. 16 that the proposal was "too complicated" and that he favored import tariffs without the cut to export taxes.
The spread between contracts set to expire at the end of 2017, 2018, and 2019 are now well off their earlier-year tights, even though the ideas outlined by Trump and the House GOP ought to be similar directionally for the WTI-Brent gap, if not in magnitude.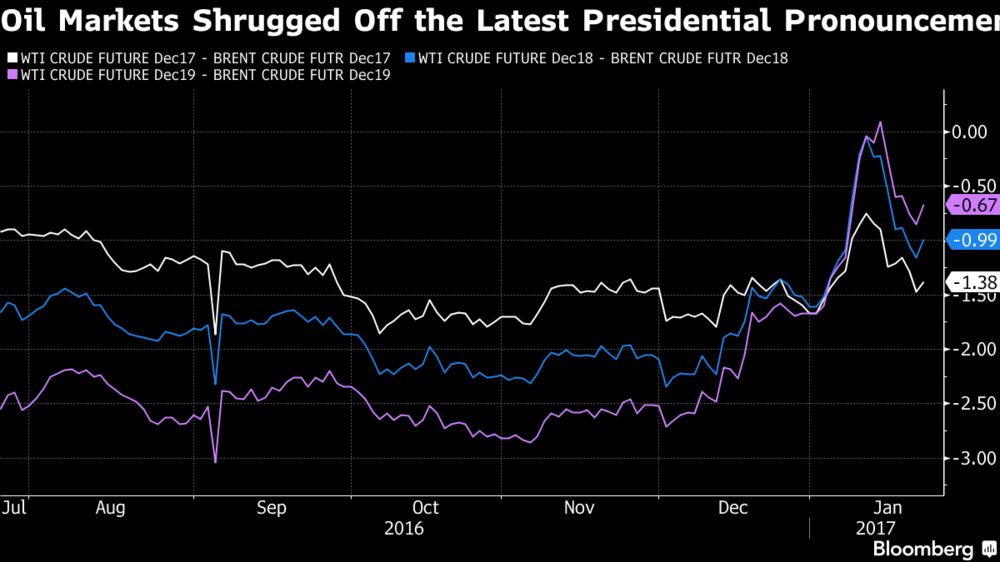 This price action speaks to a larger theme evolving in markets: The unbridled enthusiasm about the incoming administration has been replaced with more caution, skepticism and outright confusion about what exactly the president's policy goals are and how he'll implement them.
The five-year yield on Treasury Inflation Protected Securities, which soared after the election, has fallen back into negative territory on concerns that the new administration won't be too much of a positive for growth. Meanwhile, the U.S. dollar spot index is in negative territory in January after going on a tear in the fourth quarter, and gold has regained some of its luster after ending 2016 below $1,110 per ounce.
Whether any enacted border tax will be similar to the form envisaged by House Republicans or more selectively applied on companies that outsource jobs, which is more seemingly in line with Trump's rhetoric, remains to be seen.
When it comes to the oil proposals, analysts at Goldman Sachs Group Inc. conclude that a move to the tax program preferred by the House Republicans would cause WTI to trade at a premium to Brent immediately, and for the first time since May 2016 -- causing pain for U.S. consumers in the process. They say U.S. gasoline prices could rise by about 30 cents per gallon at the pump.
But while Trump's steadfast support for protectionist measures implies a meaningful shift in trade policy is in the offing Goldman isn't too bullish on the House Republican's plan coming to pass.
Economist Alec Phillips, a former Senate Finance Committee staffer, sees just a one-in-five chance that a border tax will be implemented. The presence of former Exxon Mobil Corp. chief executive Rex Tillerson in the cabinet, as well as comments from Treasury nominee Steven Mnuchin highlighting Trump's cognizance of how border taxes could increase gas prices, raise the prospect that energy may be ``carved out'' from changes that aim to reduce the U.S. trade deficit, Goldman concludes.
Article Link To Bloomberg: