German partner Bertelsmann open to buying Pearson's stake; U.K. company withdraws 2018 profit target amid headwinds.
By Ville Heiskanen
Bloomberg
January 18, 2017

Pearson Plc cut its profit forecast for this year, signaled it will lower the dividend and announced plans to sell its stake in publisher Penguin Random House as the U.K. company struggles with plunging sales of textbooks in the U.S. The shares sank as much as 24 percent.

Operating profit in 2017 will be 570 million pounds ($704 million) to 630 million pounds, the London-based company said in a statement Wednesday, below the average analyst estimate compiled by Bloomberg of 681.9 million pounds. The world's largest education company withdrew its profit goal for 2018 after sales of materials for U.S. higher education dropped 30 percent in the fourth quarter.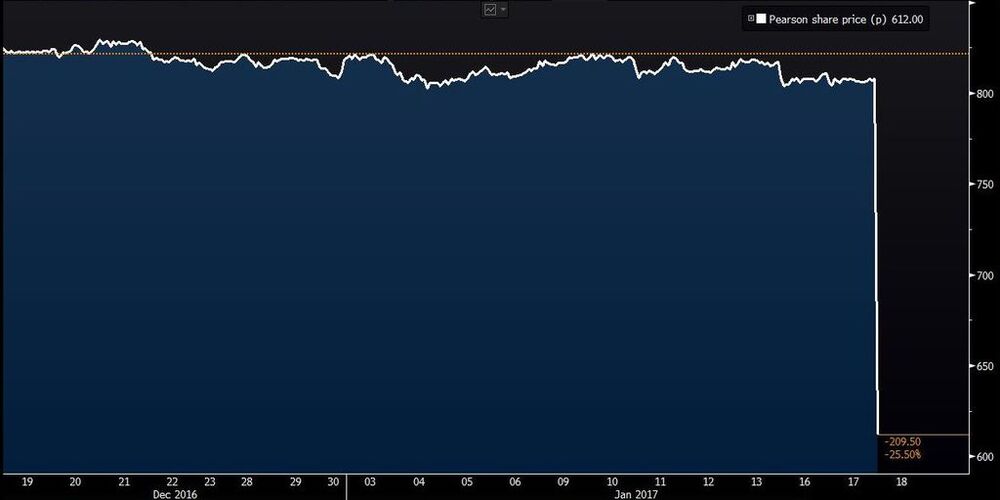 "Whereas we had previously anticipated a broadly stable North American higher education courseware market in 2017, we now assume that many of these downward pressures will continue," the company said in the statement.
The planned sale of the Penguin Random House stake signals Chief Executive Officer John Fallon is doubling down on the education business, seeking to resurrect sales even amid sluggish demand for textbooks, dwindling U.S. college enrollments and declines in its testing business. Fewer older students are enrolling, community college admissions also are dropping, and more students are renting textbooks, Pearson said.
Selling the stake gives an opportunity to German media giant Bertelsmann SE, Pearson's partner in the venture, to acquire full control of the world's largest book publisher. Pearson plans to use the proceeds from its 47 percent stake to invest in its business, strengthen its balance sheet and return excess capital to shareholders, the company said. The stake may fetch 1.2 billion pounds in a sale, according to Ian Whittaker, an analyst at Liberum in London.
Pearson sank 22 percent to 633.50 pence at 8:10 a.m. in London, cutting the company's market value to 5.2 billion pounds.
Pearson combined Penguin with Bertelsmann's Random House in 2013, leaving the British company owning just under half of the venture, which publishes books from writers including John Grisham, Ken Follett and George R. R. Martin. In 2015, it generated revenue of 3.7 billion euros ($3.95 billion) and operating earnings before interest, taxes, depreciation and amortization of 557 million euros.
Bertelsmann is open to increasing its stake in the venture "provided the terms are fair," CEO Thomas Rabe said in a statement. "Strategically this would not only strengthen one of our most important content businesses, it would also once further strengthen our presence in the United States, our second largest market," Rabe said.
Pearson gets almost all its profit from education after already selling the Financial Times and its half of the Economist Group. The company announced
a reorganization
last year as it seeks to address sluggish demand in its main business.
Pearson also indicated that its dividend, which amounted to 52 pence a share for 2016, will be cut beginning this year to reflect the lower earnings guidance. The current dividend equals 6.4 percent of Pearson's share price, the highest yield among companies in the U.K.'s benchmark FTSE-100 Index.
Article Link To Bloomberg: