Fund returned 8.2% in past year, double its benchmark; Emerging markets offer opportunities, fund manager says.
By Lilian Karunungan
Bloomberg
January 16, 2017
Don't count your nails yet for the bond market's coffin.
That's the message from a JPMorgan Asset Management fund that's outperformed in the past year by keeping to shorter-maturity securities. The $2.4 billion
Global Bond Opportunities Fund
has reduced its average duration in U.S. securities to three years from more than five in July, and has jumped into the domestic debt of Brazil and Russia, two higher-yielding emerging markets that have avoided the recent exchange-rate depreciation afflicting Turkey and Mexico.
"There's still life in fixed income -- but it's a question of what sort of fixed income we invest in," said Iain Stealey, a London-based managing director who helps oversee $1.77 trillion globally at the firm. "Over the course of this year, we do feel we're going to see higher core government rates whether it's the U.S. or Europe," he said in an interview in Singapore last week.
Bond investors have been navigating dangerous shoals since the global-reflation trades that caught fire after the November U.S. presidential election victory for a fiscal-stimulus pledging Donald Trump. While the growth enthusiasm has ebbed in recent weeks, some are warning of the potential for more pain this year.
For Stealey's fund, the question is how to build on a 8.2 percent return in the past year, based on data compiled by Bloomberg, that's been double the 3.9 percent gain in its underlying benchmark, the Bloomberg Barclays Multiverse Index.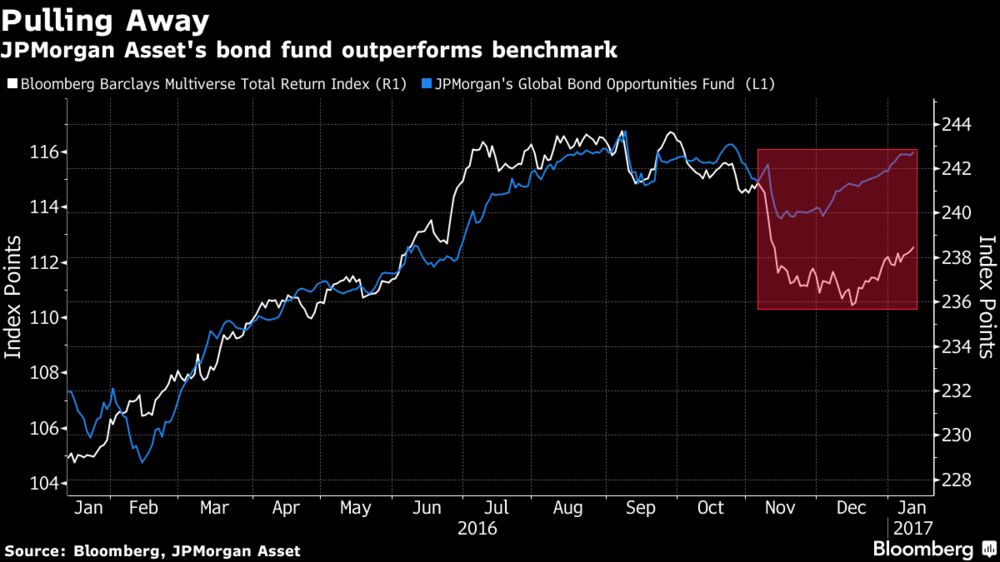 The fund's recent strategy:

--Began buying back emerging-market debt since mid-December after the resurgent dollar showed some stability

-- Mix of both local currency and dollar-denominated emerging-market bonds have been raised to 15 percent of the portfolio from 12 percent, still below the 17 percent allocation before the U.S. election
--Increased holdings of U.S. high-yield bonds as these benefit from a stronger economy

The company is positive on the local-currency bonds of Brazil and Russia as their economies are seen rebounding, Stealey said. The domestic debt issued by the two countries returned 4.9 percent and 2.3 percent respectively in the past month as of Jan. 13, indexes compiled by Bloomberg show. Brazil's 10-year notes offer a yield of about 11 percent and Russia's around 8 percent, compared with about 2.4 percent for similar-maturity U.S. debt. The benchmark yield in the U.S. will likely rise to as high as 3.5 percent by the end of the year, Stealey forecast.

Brazil's change in president should be "positive" for the country, Latin America's biggest economy, Stealey said. Russia, the world's largest energy exporter, will benefit from a rebound in oil prices and the incoming U.S. administration's more favorable stance could lead to a "toning down of sanctions," he said.

"When we go through fundamental quantitative analysis on emerging markets as a whole, there's reason to be optimistic," he said. "There are selections of emerging markets where there are still opportunities. Stronger global growth looks like it's coming, which should be good for all forms of credit globally."
Article Link To Bloomberg: