Import costs increase the most in more than five years; Carney has warned of headwinds as pound drop boosts prices.
By Scott Hamilton
Bloomberg
January 17, 2017

U.K. inflation accelerated more than economists forecast in December as signs mounted that the pound's decline is leading to a surge in import costs.

Consumer-price growth increased to 1.6 percent, the highest since July 2014, from 1.2 percent in November. That beat the 1.4 percent median forecast of economists. A separate report showed the cost of imports soared at the fastest annual rate in more than five years.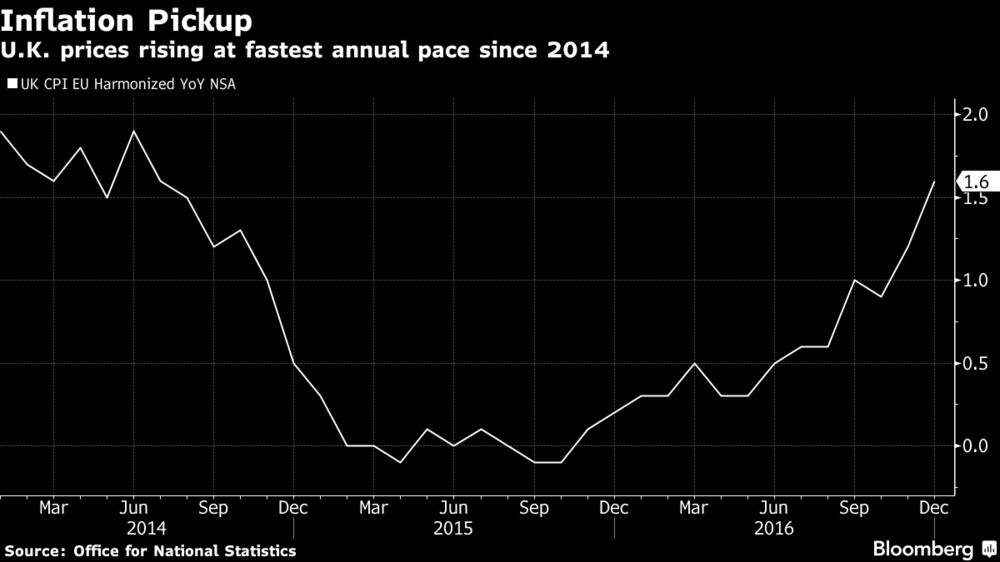 The data comes a day after Bank of England Governor Mark Carney warned that U.K. consumers are facing fresh headwinds this year as sterling's 18 percent depreciation since the Brexit vote pushes up prices. The BOE, which will publish new forecasts next month, currently expects inflation to breach its 2 percent target within months.
The U.K.'s core rate of inflation -- excluding volatile food and energy -- picked up to 1.6 percent in December, the fastest since August 2014, the Office for National Statistics said. Inflation based on a separate measure, the retail prices index, reached the strongest since July 2014.
The cost of imports rose 16.9 percent year-on-year in December, the most since July 2011. Annual growth in factories' costs accelerated to 15.8 percent, also a five-year high.
As the BOE assesses the outlook and balances its growth and inflation priorities, it says the next move in interest rates could either be a tightening or a loosening. It cut the benchmark rate in August after the U.K. voted to leave the European Union, lowering it to a record-low 0.25 percent.
Economic developments depend heavily on the U.K.'s new trading relationship with the EU. Prime Minister Theresa May is expected to set out her plans in a speech on Tuesday. That could include Britain leaving the bloc's single market for goods and services.
Article Link To Bloomberg: