Treasury planning to speak to major banks to offer reassurance; Pound falls below $1.20 amid reports May planning hard Brexit.
By Svenja O'Donnell and Timothy Ross
Bloomberg
January 16, 2017

The U.K. government is drawing up plans to try to reassure investors amid expectations that Prime Minister Theresa May's long-awaited blueprint for Brexit will cause more market turmoil, according to two people familiar with the situation.

Government officials expect sterling to take another hit when May sets out her vision for leaving the bloc in a speech on Tuesday, and the Treasury is preparing to speak to major banks in London to try to smooth the reaction, said the people, who declined to be named as the plans aren't public. While Treasury officials often reach out to banks to explain policy, it's unusual for the prime minister's office to anticipate a bad market reaction, they said.

The pound fell against the dollar after four U.K. newspapers reported on Sunday that May would outline moves for a hard, clean break from the European Union's 27 other member states. Sterling tumbled as much as 1.6 percent in early trading to below $1.20 for the first time since the so-called flash crash in October.

The premier will say that the U.K. is ready to leave the European customs union and single market if other members are not prepared to give Britain control over immigration, according to reports in The Sunday Times, Sunday Telegraph, Sunday Express and Sun on Sunday. May's office declined to confirm or deny the newspaper reports, describing them as based on "speculation."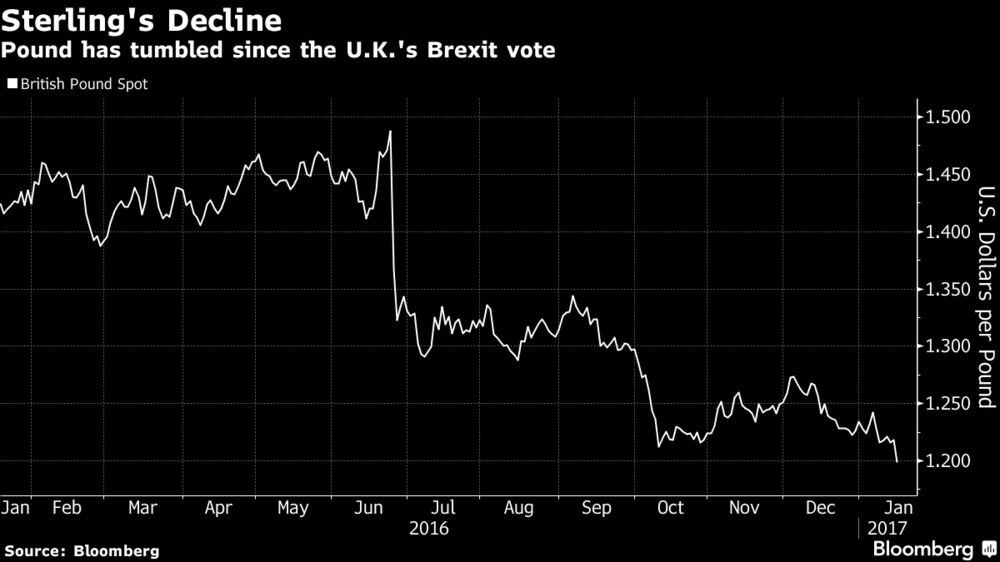 Talking Tough

The reports came amid signs that the U.K. is taking a tougher approach to the EU ahead of formal talks, warning that Europe has the most to lose if Britain crashes out of the bloc without a deal.

Brexit Secretary David Davis suggested the European Union could "fail" if negotiations do not result in a strong new trade agreement with the U.K. while Chancellor Philip Hammond floated the idea of radically changing the U.K.'s economic model. In a hint he could cut corporate taxes and employment rules, Hammond vowed to do "whatever we have to do" to ensure the country remains competitive, if Europe imposes tariffs on trade with Britain.

"We don't want the EU to fail, we want it to prosper politically and economically, and we need to persuade our allies that a strong new partnership with the U.K. will help the EU to do that,'' Davis wrote in The Sunday Times. "A disorderly U.K. exit would pose as much risk to financial stability on the Continent, and potentially more in the short term, as it would at home."

In a report to be published on Monday by the Policy Exchange think tank, Gerard Lyons, a
former adviser to pro-Brexit Foreign Secretary Boris Johnson, will argue Britain can still prosper even if it faces tariffs on its exports to Europe after the split.


Race To Bottom

In the newspaper interview, Hammond promised to take measures to boost the U.K.'s competitiveness if the country fails to secure post-Brexit access to the European single market.

"If Britain were to leave the European Union without an agreement on market access, then we could suffer from economic damage at least in the short-term," Hammond told Welt am Sonntag, a German newspaper, on Sunday. "In this case, we could be forced to change our economic model and we will have to change our model to regain competitiveness. And you can be sure we will do whatever we have to do."

European politicians responded with scorn to the comments. The British government is "at a loss," according to Norbert Roettgen, chairman of the foreign affairs committee in Germany's lower house of parliament and a member of Chancellor Angela Merkel's Christian Democratic Union, cited by Die Welt. The Guardian reported that the Netherlands is threatening to veto any U.K. trade deal with the EU if it triggers what Deputy Prime Minister Lodewijk Asscher called a "race to the bottom for profits taxation."

At home, the main opposition Labour Party also criticized Hammond. "It seems to me a recipe for some kind of trade war with Europe in the future," party leader Jeremy Corbyn told BBC television's Andrew Marr show. "That really isn't a sensible way forward."
Article Link To Bloomberg: