CEO Cryan is cutting assets, jobs, bonuses to shore up capital; Deutsche Bank's key capital ratio beats analysts' estimates.
By Steven Arons and Nicholas Comfort
Bloomberg
February 2, 2017
Deutsche Bank AG
reported fourth-quarter trading revenue that missed analysts' estimates as concerns about the company's finances weighed on clients.
Revenue from debt trading, the bank's biggest source of income, rose 11 percent from a year earlier to 1.38 billion euros ($1.49 billion), falling short of the 1.68 billion-euro average estimate of 10 analysts in a Bloomberg News survey. Equity trading revenue fell 23 percent to 428 million euros, Deutsche Bank said Thursday, while analysts had expected revenue to be flat.
Chief Executive Officer John Cryan is shrinking the trading operations, built by his predecessor, and raising capital levels eroded by misconduct costs. While the bank has settled some of its biggest legal cases in the past two months, an initial request that it pay $14 billion to settle a U.S. Justice Department investigation of mortgage-backed bonds spooked some investors in the quarter.
"There was a clear impact from the negative news flow around Deutsche Bank in the fall, especially on the global markets unit," said Daniel Regli, an analyst with MainFirst whose recommendation on the stock is under review. "It remains to be seen whether this effect will be reversed in 2017."
The bank's net loss narrowed to 1.89 billion euros in the three months through December, from a loss of 2.12 billion euros a year earlier. Analysts had expected a shortfall of 1.32 billion euros.

'Promising Start'
Deutsche Bank stock traded 4.5 percent lower as of 9:29 a.m. in Frankfurt. The shares are still up about 75 percent from a record low on Sept. 26, when news of the Justice Department's initial request broke.
The bank has settled some of its biggest legal matters since then, and the election of Donald Trump as U.S. president prompted speculation that bank regulation will be weakened. A surge in fixed-income trading further fueled a rally in U.S. bank shares. The five biggest U.S. investment banks saw their combined debt trading revenue jump 43 percent in the fourth quarter from a year earlier, data compiled by Bloomberg show.
Deutsche Bank has experienced a "promising start to this year," Cryan said in the statement. Revenue will rise this year and the company had a "strong" January across almost all its businesses, according to a presentation the bank published on its website.
Deutsche Bank's common equity Tier 1 ratio, a key measure of its financial strength, rose to 11.9 percent at the end of December from 11.1 percent three months earlier as it shrunk risk-weighted assets. That's higher than the 11.3 percent analysts in the Bloomberg News survey had expected.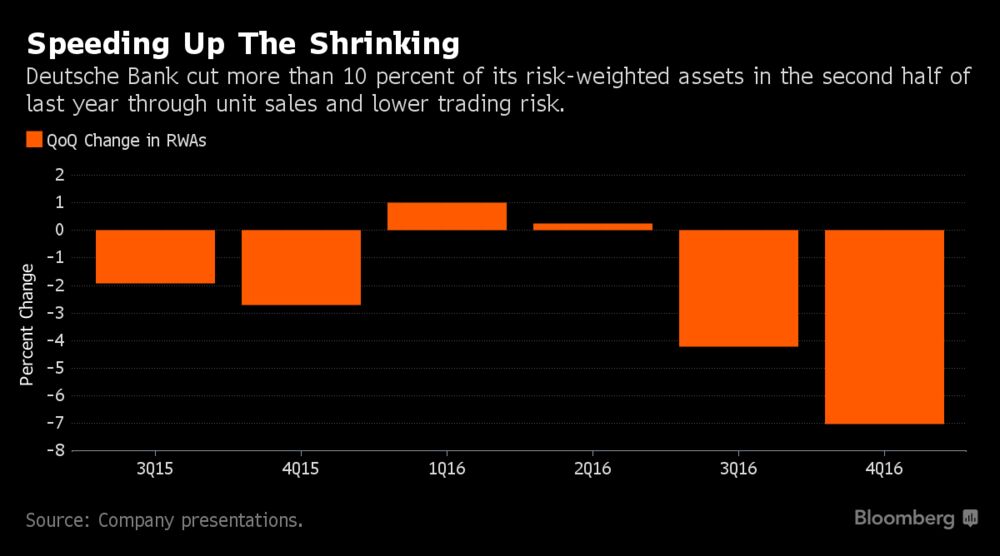 The bank reiterated a plan to raise the ratio to at least 12.5 percent by the end of 2018. Assets weighted by risk will probably rise in the first quarter "to support business growth," the bank said.
"We welcome the improvement in the capital position, but wonder if this has come at a cost to the profitability of the core franchise," Citigroup Inc. analysts including Andrew Coombs said in a report. They have a sell recommendation on the stock.
Deutsche Bank's trading unit reported a fourth-quarter pretax loss of 737 million euros compared with a loss of 954 million euros a year earlier. The corporate and investment bank, which houses advisory and underwriting activities, saw its pretax profit fall 2 percent to 304 million euros, while the private, wealth and commercial clients unit made a 701 million-euro pretax profit after a 527 million-euro loss a year earlier.
Cryan has said he's willing to sacrifice some revenue as he improves the firm's internal controls and scales back debt-trading operations that require increasing amounts of capital.

'Peak Years'
Deutsche Bank took 1.59 billion euros of litigation charges in the fourth quarter, more than the 1.28 billion euros analysts surveyed by Bloomberg News had expected on average. While 2015 and 2016 were "peak years for litigation," this year will continue to be "burdened by resolving legacy matters," Deutsche Bank said in slides on its website.
Last month, Deutsche Bank finalized a
settlement
with the Justice Department over its handling of mortgage-backed securities before 2008. The bank agreed to pay a $3.1 billion civil penalty and provide $4.1 billion in relief to homeowners. This week, it was fined $629 million by U.K. and U.S. authorities for compliance failures that resulted in the bank helping wealthy Russians move about $10 billion out of the country.
A criminal investigation of the trades by the Justice Department is ongoing. The bank also hasn't resolved investigations into whether it manipulated foreign-currency rates and precious metals prices.
Client Redemptions
To help shoulder those costs, the company said last month that it will scrap the bonuses of its top executives for a second straight year and
slashed
variable compensation for other senior employees to shore up capital.
Deutsche Bank is also considering raising capital through the sale of a stake in its asset management unit in an initial public offering, according to people familiar with the matter.
That division generated a 753-million pretax loss after writing down the value of the Abbey Life unit it agreed to sell to Phoenix Group Holdings in September. Asset management generated a 173 million-euro pretax profit in the year earlier quarter. The business saw 13 billion euros of net outflows in the quarter, the highest since redemptions started in the third quarter of 2015.
Cryan said in a speech in Berlin that he's seeing signs of better times ahead and will continue to focus on resolving the bank's "legacy issues."
Article Link To Bloomberg: