All three principal business units miss company forecasts; Increase in cash flow, lower debt help to buoy shares.
By Rakteem Katakey
Bloomberg
February 2, 2017
Royal Dutch Shell Plc reported fourth-quarter profit that missed analyst estimates after crude's recovery drove up costs for refining while earnings from production did little more than break even.
Profit adjusted for one-time items and inventory changes totaled $1.8 billion, a billion dollars short of analyst estimates. The upstream, downstream and integrated-gas business units all missed company forecasts. Shell barely made any money from refining and trading: just $77 million, down 90 percent.
Major oil companies are facing a complicated time. Crude prices have recovered, but only enough to push Shell's exploration and production business back into the black, compared with a billion-dollar loss a year ago. At the same time, the rising cost of oil has hurt profit from processing crude.
"They missed estimates in all three business segments, which is a bit disappointing," Brendan Warn, an analyst at BMO Capital Markets in London, said Thursday by phone. "They are building momentum on asset sales and cash flow and that is the encouraging part."
Chief Executive Officer Ben van Beurden this week
announced
the sale of fields in the North Sea and Thailand for as much as $4.7 billion, and said Thursday that Shell's $30 billion divestment program is on track. He also said the company generated enough cash last quarter to pay for capital spending and dividends without borrowing more.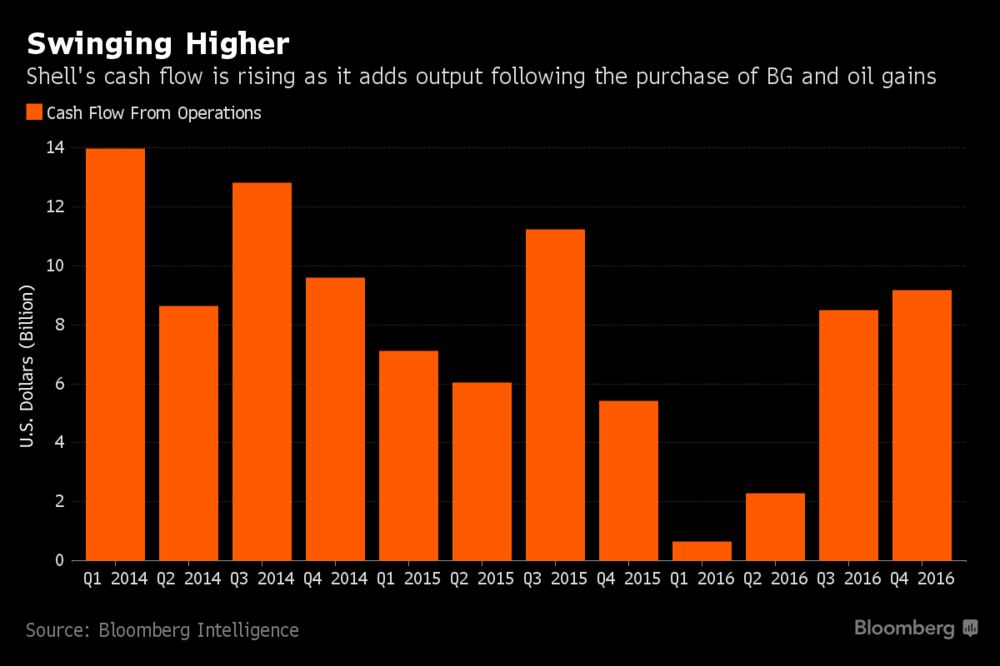 Van Beurden has made debt reduction a top priority since Shell piled up borrowings following its $54 billion purchase of BG Group Plc last year. And he's making progress. Gearing -- a measure of indebtedness -- was 28 percent at the end of the year, down from 29.2 percent at the end of the third quarter. Cash flow jumped 69 percent from a year earlier to more than $9 billion.
"In the last two quarters our strategy is starting to pay off," Van Beurden said Thursday in an interview with Bloomberg Television. "Free cash flow is well above requirements, we have started to pay down our debt in the fourth quarter. I do think we are on track. But we still have a long way to go."

Shares Gain

The company's B shares, the most widely traded, rose 1.8 percent to 2,262.5 pence at 8:19 a.m. in London. The stock advanced 53 percent in London last year, the first annual gain in three.

Shell's U.S. peers Chevron Corp. and Exxon Mobil Corp. also announced earnings well short of estimates. In a sign of how tough 2016 was for Big Oil, Shell said it delivered returns on the capital it employed of just 2.9 percent, only fractionally higher than the record low of 2.8 percent in 1998, according to an analysis by Sanford C. Bernstein & Co.

But in a sign that Shell may have put the worst behind it, the company has maintained its forecast for capital spending in 2017 at $25 billion. It also boosted oil and gas production last quarter, reporting a 28 percent increase from a year earlier to 3.91 million barrels of oil equivalent a day.
Article Link To Bloomberg: