Forecasters are anticipating a drawn-out impact on output; Economy faces multitude of potential outcomes with the EU.
By Jill Ward and Scott Hamilton
Bloomberg
February 22, 2017
The U.K. economy may be paying for Brexit for a long time to come.
The
strength of the expansion
since the vote to leave the European Union hasn't allayed concern about how the decision will filter through the economy over the coming years. It won't mean Armageddon, but the broad consensus among economists -- whose predictions about the initial fallout were largely too pessimistic -- is for a prolonged effect that will ultimately diminish output, jobs and wealth to some degree.
For analysts gauging likely outcomes, issues in the mix range from the fallout on trade, investment and London's
financial district
to knock-on effects on hiring, inflation and demand. There may also be offsetting factors to take into account, including if any of the lost benefits of EU membership can be
replicated
or replaced via other deals.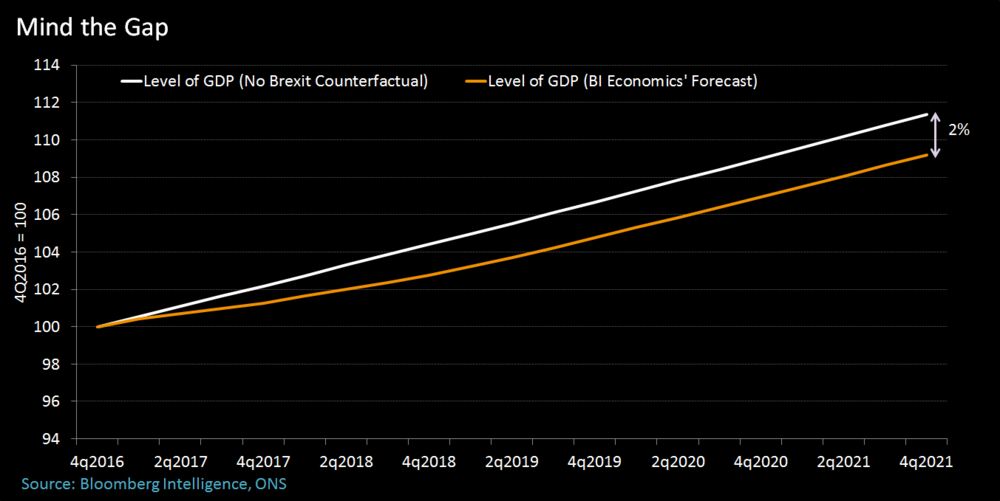 With Prime Minister Theresa May indicating she's pursuing a hard Brexit -- cutting the U.K. from the bloc's single market for greater control over migration -- scenarios with higher economic costs have become more likely. Among the most pessimistic is one from MIT forecasting a loss of as much as 9.5 percent of income.
"Trade, openness and migration are the big issues," said Andrew Goodwin, an economist at Oxford Economics. "We'd expect the sort of deal the U.K. is going for to result in some degree of trade destruction. And if we're talking about reducing the level of migration, that's likely to result in growth prospects being weaker."
Even with the drag from Brexit,
Bloomberg Intelligence
and PricewaterhouseCoopers note the U.K. will still outperform most other major euro-zone economies. Others are even more optimistic, with the Economists for Free Trade group seeing a
boost
from an "optimal" policy of scrapping import tariffs.
How it all plays out will also influence Bank of England policy, with Governor Mark Carney saying on Tuesday that the various
Brexit scenarios
will help determine when interest rates rise and how fast.
Rounding up some of the assessments shows the variety of potential outcomes from leaving the EU and losing free access to the world's largest open trading bloc. The U.K.'s potential growth -- how fast it could grow using all resources most efficiently -- could also be undermined. The selection of forecasts here are all based on different assumptions, reflecting the multiple Brexit options.

MIT: Output loss of as much as 9.5% per person

Bank of America Merrill Lynch: Losses in the order of 5-10% of GDP over 15 years

Morgan Stanley: Potential growth cut by about 0.5 percentage point per annum if no trade deal and U.K. reverts to WTO rules

Nomura: If 10% of financial sector activity operated by foreign institutions transfers, GDP declines by 0.2%

Berenberg Bank: Potential growth to slip to 1.8% from 2.2%

Oxford Economics: Potential growth to fall to 1.6% from pre-crisis norm of 2.5%
Economists for Free Trade:
Tariff-free trade with the bloc, alongside the rest of the world, and removal of EU regulation, could boost growth by up to 6%
While the more negative views may be in the majority, they're unlikely to derail May's government from its current path.
If the pre-referendum warnings of
recession
and economic apocalypse -- since proved unfounded -- weren't enough to give "Remain" victory last June, then long-term, somewhat nebulous, projections a decade or more out are unlikely to shake the resolve of those who want to press on with leaving.
Once the exit process known as Article 50 is triggered -- May aims to do it by the end of March -- there are still
many unknowns
, with vastly different options covering everything from trade tariffs and migration to financial services.
An agreement similar to, for example, that between the bloc and Norway, versus falling under World Trade Organisation rules, would mean different outcomes. There's also the question of a transitional deal, and how long that could last.

Weak Link
The U.K. may try to protect certain industries in its negotiations. A deal that hurts services -- the biggest part of the economy -- would be particularly painful, and the relocation of financial institutions from London to other European locations could also widen the near-record current-account deficit.
The prime minister spelled out
her vision
for a "global Britain" in a speech in January. Most European leaders insist the single market's free movement of goods and services is indivisible from the free movement of people, so a deal that gives the U.K. close to free access without immigration could be unlikely.
Austria's Chancellor Christian Kern even said this month that the EU should ensure the U.K. ends up in a worse situation, and German Chancellor Angela Merkel has indicated she will take a tough stance in the talks.
In the meantime, uncertainty remains the default.
"We formed a view in the immediate aftermath of the referendum about the range of possible long-run impacts -- quite a broad range of possibilities," BOE Chief Economist Andy Haldane said this week. "We haven't fundamentally changed that view, not least because we don't have very much extra information on how that might look."
Article Link To Bloomberg: