China's resource binge has emboldened the Australian consumer; But still few signs of meaningful private or public investment.
By Michael Heath
Bloomberg
March 1, 2017
Australia's smashing growth may not be quite as good as it seems.
It's clear that China's renewed resource binge has brought back the good times for its commodity-driven economic satellite, emboldening Aussie households to ease up saving and ramp up spending. And the outlook for the world's
No. 2 economy
looks like it will remain good for some time: factory gauges are stronger and the Communist party this year holds a twice-a-decade reshuffle of senior leadership posts, so it must.
But the robustness of the Aussie consumer is questionable. Wage measures in Wednesday's
GDP report
were miserable: employee compensation fell 0.5 percent in the final three months of 2016 to be just 1.5 percent higher over the year. It was only a substantial reduction in the savings ratio that financed a jump in consumer spending; and with household debt at a record high, its debatable whether this will continue.
The upshot: while on the face of it, 2.4 percent annual growth puts the economy on track to reach the Reserve Bank of Australia's forecast of 3 percent later this year, Wednesday's report might prove something of a false dawn. It's private and public investment that are needed for the economy to keep accelerating, and neither shows signs of emerging.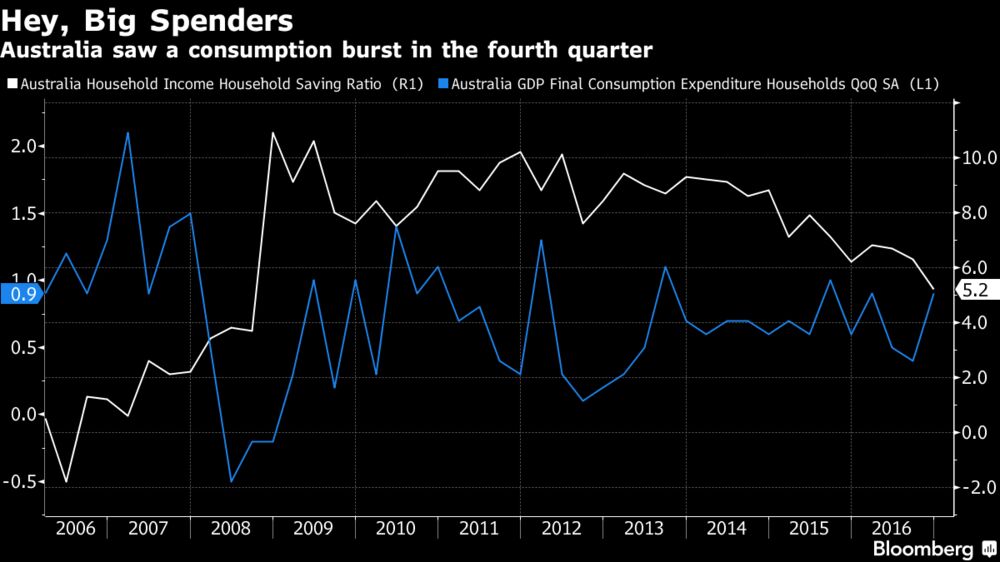 Michael Blythe, chief economist at Commonwealth Bank of Australia, says "governments need to lose their fear of debt" by supporting infrastructure investment to spur growth. Similarly, businesses "need to cut their hurdle rates when evaluating investment projects as 10 percent to 16 percent makes no sense in a low yield, low inflation and low return environment."
When it comes to stimulus, the central bank also appears likely to remain on the sidelines: Governor Philip Lowe has made clear his opposition to further easing, citing the threat to financial stability of increased borrowing to chase higher property prices.
"For the RBA, the ongoing softness in wages and prices means higher interest rates are a very long way away," said Deutsche Bank's Chief Economist Adam Boyton. "Indeed if the bank thinks core inflation is likely to be sub-2 percent until about the middle of 2019, that would make that year the first that we would seriously countenance a rate hike. "

Mining Bounce

Still, being the most China-reliant economy in the developed world is helping Australia: an iron ore price hovering above $90 -- more than double its low of just over a year ago -- is lifting national income and helped provide a 50 percent boost to company profits. That's good news for a government desperately trying to shore up its budget and avoid a downgrade of its AAA rating.

Secretary to the Treasury John Fraser, speaking to a parliamentary panel shortly before the GDP release, said if higher commodity prices are sustained then the government "should prioritize budget repair" and ensure any additional revenue was used to strengthen the bottom line.

"We need to take great care not to fall into the trap of spending unexpectedly higher revenue, should it arise, in a way that would structurally weaken the budget as may have occurred through the early 2000s," Fraser said, referring to the Howard government's spending spree at the start of the mining boom.

On the AAA rating, Fraser told lawmakers that messages from the three main agencies are mixed, but the continued focus on budget repair will help Australia's cause. Since the mid-year budget update in December "the winds have probably blown a little more in our favor" in terms of avoiding a downgrade, he said.

Aussies like competition. Wednesday's return to growth after a shock third-quarter contraction means the economy has now expanded for more than 25 years, and is closing in on the record held by the Netherlands.
Article Link To Bloomberg: