High-tax companies, retailers hold clues to proposal's chances; Goldman high-tax index loses outperformance versus S&P 500.
By Joseph Ciolli
Bloomberg
March 28, 2017
Fresh off a week of health-care drama, investors shifted attention to the prospects for the Trump administration's plan to cut taxes.
Want to know if they're "
phenomenal
?" Watch the companies with the most at stake.
The simplest measure is a basket of firms that have the highest effective tax rates, including Goodyear Tire & Rubber Co. and Alliance Data Systems Corp. If the chances for passing cuts to corporate rates rise, so too will these shares. Retailers, meanwhile, hold clues on the fortunes of the border adjustment tax. If the likes of Wal-Mart Stores Inc. start to falter, that'd be a clue that the measure is gaining traction.
Handicapping the political wrangling in Washington has taken on more importance after the health bill's failure raised concerns the administration's pro-growth policies won't sail through Congress. For investors forced to parse the meaning of of D.C. infighting, the collective wisdom of the market has taken on the role of soothsayer.
"These trades depend on what the market's anticipation has been in the past, and a lot can be gleaned from whether they gel or unravel," said John Manley, who helps oversee about $233 billion as chief equity strategist for Wells Fargo Funds Management in New York. "People work so hard trying to use things to predict the stock market -- it's interesting to see people using stocks to predict things outside of it."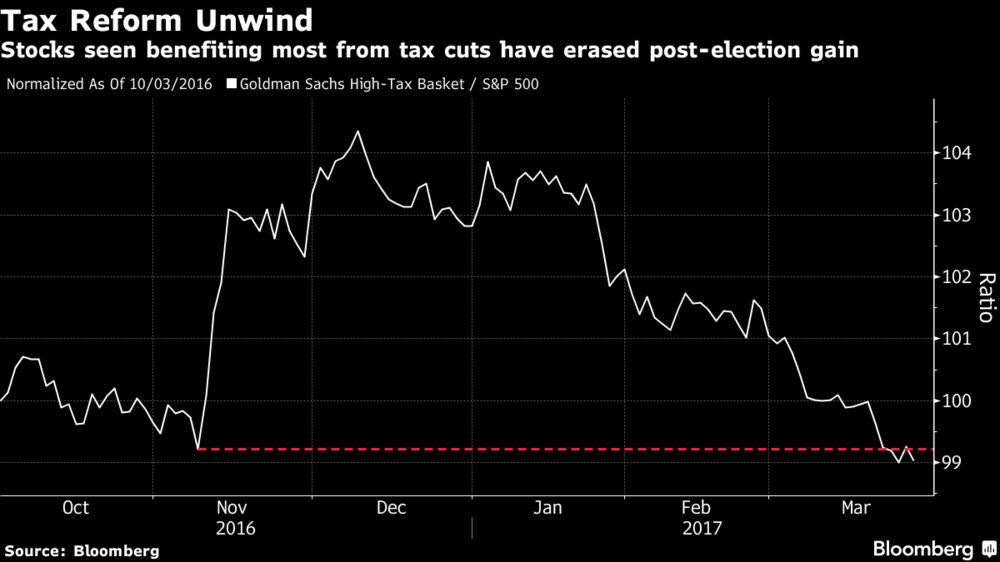 For now, investors have turned cold on the prospects for tax reform, at least any time soon. A Goldman Sachs Group Inc. index of 50 highly taxed stocks fell as much as 1 percent Monday before finishing little changed after its worst week in 13 months. The group surged as much as 14 percent after the election, but is now down 2.8 percent in the month of March.
"The defeat of the health bill indicates that complex and controversial tax reforms are likely to be difficult to pass," a group of Goldman economists led by Alec Phillips wrote in a note to clients on Monday.
That sentiment's having the opposite effect on apparel and multi-line retail companies, whose reliance on overseas manufacturing makes them particularly exposed to any border-adjustment tax. The centerpiece of the House Republican tax proposal would likely raise supply costs, making the prospect for legislative gridlock a positive.
The group, which Goldman said in mid-February had the "most to lose" from the border tax, was little changed on Monday, clinging to a third straight monthly advance. It's getting some relief from preemptive selling that saw an S&P 500 index of retailers fall 1.7 percent last week, the biggest decline of the year. L Brands Inc., Foot Locker Inc. and Abercrombie & Fitch Co. rose at least 0.2 percent. Wal-Mart edged higher.
"Watching Congress lack the backbone to make changes to the ACA reminded us how difficult tax reform could be," Daniel Clifton, head of policy research at Strategas Partners, wrote in a client note on Monday.
Article Link To Bloomberg: