Watch softening car sales, gap between sentiment and spending; Transitory drags include low heating bills, tax-refund delays.
By Sho Chandra
Bloomberg
April 19, 2017

Don't hit the panic button over another first-quarter slump in U.S. consumer spending. At least not yet.

In each of the past three years, household purchases slowed in the January-to-March period, only to rebound and continue powering the world's largest economy. While that pattern is projected to repeat in 2017, there may be less ounce to the bounce this time.

Consumption grew at a 1.1 percent annualized rate, down from 3.5 percent in the fourth quarter, according to the median estimate of economists surveyed by Bloomberg this month. If confirmed in data due April 28, it would be the weakest gain in almost four years and the worst first quarter of the expansion that began in 2009.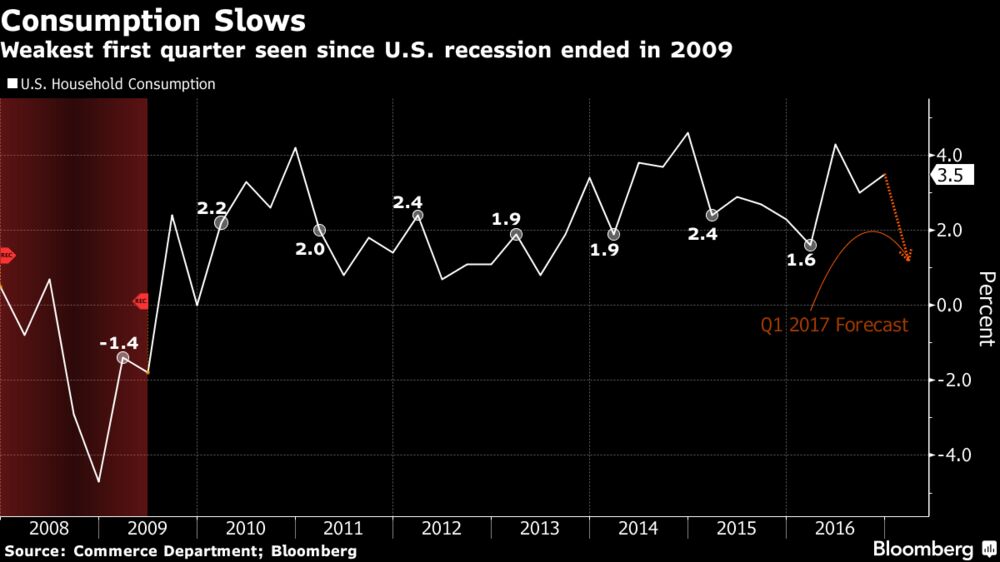 Some of the slowdown can be chalked up to temporary factors, such as unseasonable weather, and delays in tax refunds for some filers. Yet a leveling-off in automobile sales, along with the possibility sentiment may waver from elevated levels and cause shoppers to become even more cautious, loom as risks that any rebound will be less pronounced than prior years. On top of that, consumer prices are rising at the fastest pace in five years, eating into purchasing power amid tepid wage gains.
"Whichever way you slice it, first-quarter consumer spending was weak," said Jim O'Sullivan, chief U.S. economist at High Frequency Economics in Valhalla, New York. "I don't think the trend is quite that weak," he added, but with auto sales slowing and inflation rising, there will be "some moderation."
He expects the pace of growth in household purchases will settle into a 2 percent to 2.5 percent range, compared with around 3 percent last year. Economists project a second-quarter acceleration to a 2.8 percent annualized rate, and a gain of 2.5 percent for the full year, according to the monthly Bloomberg
survey
conducted from April 7 to April 12.

Weather Impact
For the first quarter, weather was a familiar, but temporary culprit. Unseasonably warm temperatures kept home-heating bills low and depressed spending on utilities in January and February to the weakest two-month stretch in more than 25 years, while a late winter storm in the Northeast crimped consumer purchases in March.
Delayed tax refunds
were another negative, though household spending may pick up as the cash makes its way to Americans' pockets.
The hit from a
downs
hift
in motor vehicle purchases could prove more than temporary, though. Bigger buyer incentives and
falling prices
may shore up demand, while a pullback in
subprime auto lending
will damp sales.
Meanwhile, optimism is still riding high that President Donald Trump will deliver on his pledges to cut taxes, renegotiate trade agreements and invest in infrastructure. That's another reason why the consumer slowdown matters -- the stark divide between household sentiment and actual performance contrasts with business activity, which has begun catching up to elevated corporate confidence.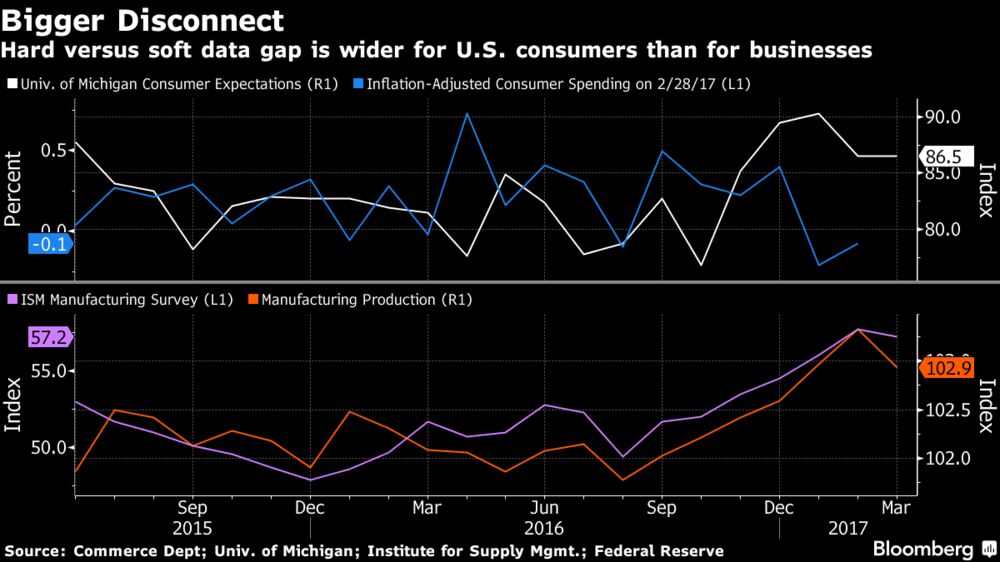 The weakness in consumer spending, which accounts for about 70 percent of the economy, also means dismal first-quarter forecasts for gross domestic product growth. The Bloomberg survey median calls for a 1.5 percent annualized gain. The Atlanta Fed's GDPNow model estimates a 0.5 percent advance.
Nonetheless, a recent report showing back-to-back declines in monthly
retail sales
wasn't all bad news. So-called control-group sales, which are used to calculate GDP and exclude food services, auto dealers, building materials outlets and gasoline stations, rose at a 4.1 percent annualized rate for the first three months of 2017, up from 3.8 percent at the end of 2016.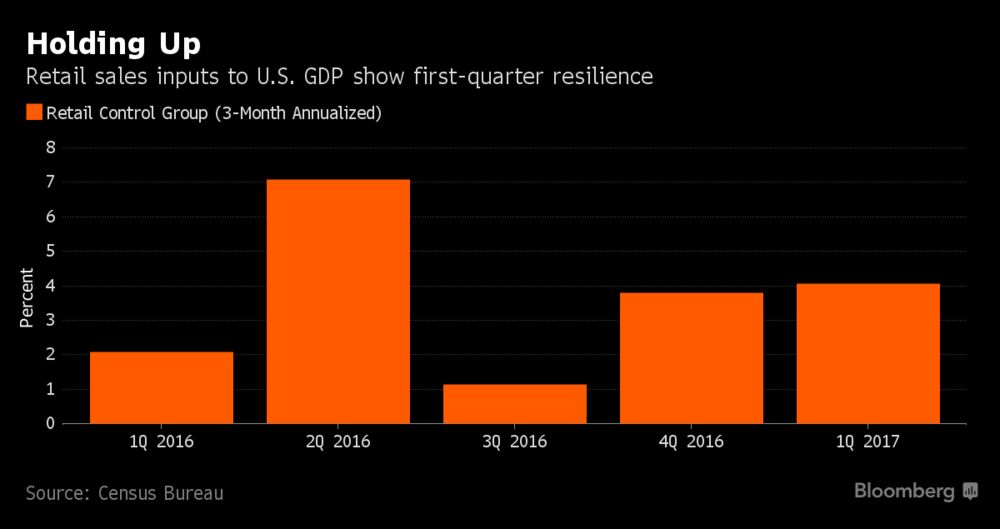 Besides, consumers have the benefit of a tightening job market, healthier finances and still-low borrowing costs.
As economists at BMO Capital Markets wrote in a note, given these still supportive demand fundamentals, "we don't expect the workhorse of the expansion, consumers, are headed for the pasture given just yet."
Article Link To Bloomberg: