By
Ben Emons
The Bloomberg View
April 25, 2017

The recent economic data out of the euro zone is encouraging. Production, manufacturing and confidence are robust, and inflation has stabilized. That's not to say that there aren't risks to the downside, such as growing populism, global geopolitical tensions, and uncertainty about sustainability of the economic recovery. To insure against these risks, the European Central Bank, which has a monetary policy meeting Thursday, has the option of boosting asset purchases.

For that to happen, though, the economic outlook has to become less favorable and financial conditions would need to be inconsistent with achieving sustainable inflation. Then there is the issue of credibility. If the ECB were to increase purchases, it could signal the economic outlook is deteriorating. But if the ECB keeps the status quo, it risks seeing an unexpected shock tighten financial conditions too quickly. When political events such as elections in France and Germany impact the economy, the ECB may choose to hold off on any action until the effects are revealed, but by then it may be too late. Markets understand this credibility issue, and financial conditions have begun to tighten while real interest rates have risen. The last time this happened was in April 2010 right before the Greek debt crisis erupted.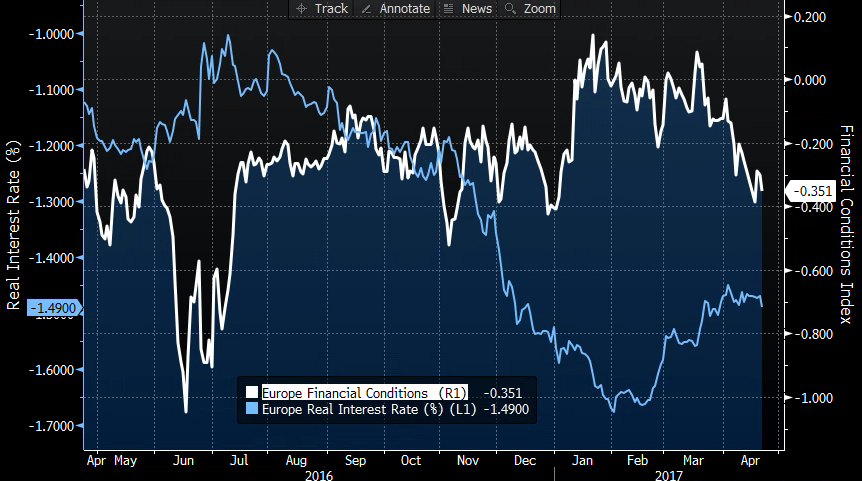 REAL INTEREST RATE = OVERNIGHT INDEX SWAP (EONIA) ADJUSTED FOR INFLATION EXPECTATIONS
The ECB has other options at its disposal besides asset purchases. There is forward guidance, the Outright Monetary Transactions Program, Long Term Refinance Operations and Emergency Liquidity Assistance. This arsenal should be sufficient to stave off a financial calamity. Yet, markets were still hedged for an adverse outcome from the French election by pricing in higher currency volatility and a possibility of restructuring French sovereign debt in case euroskeptic Marine Le Pen were victorious. The hedge has not been fully unwound, as seen in euro risk reversal rates (the difference between put and call volatility) that remain near levels last seen at the height of the euro crisis.
The outcome from the first round of elections suggests French polls are more reliable than what polls during the U.K.'s Brexit vote and U.S. election were indicating. On that basis, there is a near certainty that centrist candidate Emmanuel Macron will be the next French president. Markets remain cautious, however, not only of the possibility that Le Pen may still win, but also because of how the ECB may respond. That is because the economic data remains strong and should result in tighter ECB policy. Risk aversion, on the other hand, remains elevated as seen in currency risk reversals and negative German bond yields.

RISK REVERSAL = PUT VOLATILITY VS. CALL VOLATILITY.
In a recent speech, ECB board member Benoit Coeure highlighted the dichotomy between interest rate expectations and risk aversion. On the one hand, expectations have firmed that the ECB may normalize policy based on the trajectory of the economy. On the other hand, risk aversion picked up in the aftermath of Brexit, due to rising geopolitical tensions and uncertainty about French and German elections.
Coeure pointed out that the ECB's forward guidance consists out of two components -- one based on economic assessment and one based on action. Financial markets have priced this accordingly, whereas expectations of a hike derived from overnight rates (i.e. ECB's policy rate) and that of economist surveys is higher than market expectations from Euribor futures. The ECB may convey a message of optimism to normalize policy, and economists agree, but markets are likely to bet the central bank will sit on its hands until election uncertainty dissipates.
Although the ECB may begin normalizing quicker once the French election passes, market expectations price in a far slower pace. That is because tapering of quantitative easing and tightening of policy is seen as clearly linked. And because the ECB has set conditions when to increase or decrease asset purchases, markets assessed that data dependent policy should for now err on the cautious side because of unpredictable election outcomes. If the ECB were to follow economist surveys, it therefore may act too soon with policy normalization. This can put the ECB's credibility at stake, and markets are rightfully questioning this.
Article Link To The Bloomberg View: