Hedge funds are joining the euro trade, according to BofAML; Banks have lifted forecasts for currency as data improves.
By Stefania Spezzati
Bloomberg
May 25, 2017
It was supposed to be a year of risk that could lead to a break up of the euro. It's turning out to be the best year in a decade for the shared currency.
The euro hit a six-month high against the dollar this week and is on track to be the top-performing currency in the Group-of-10 in the first half of the year. Defeat for
anti-euro
candidates in the Dutch and French elections, better-than-expected regional economic data and increasing fund inflows into euro-zone equity markets are all making investors more confident on the outlook.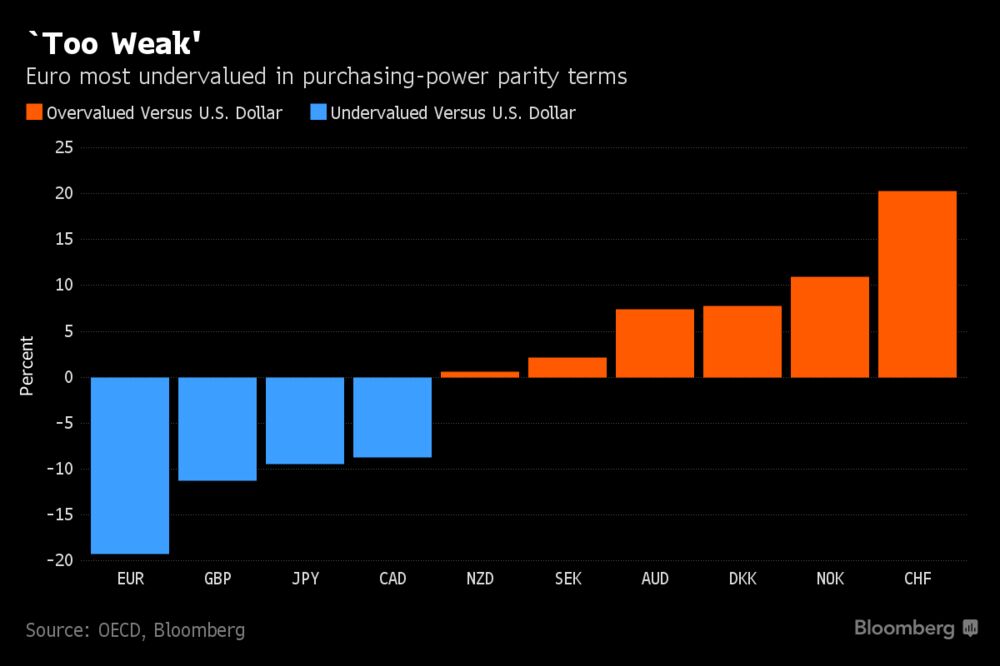 "There is a positive momentum on flows, with more hedge funds joining the euro trade," said Athanasios Vamvakidis, head of G-10 currency strategy at Bank of America Merrill Lynch, which has a long position on the shared currency against the yen.
Foreign investors have bought $7 billion of euro-zone exchange-traded funds without a hedge on the currency since March, compared to only $0.9 billion hedged, according to Morgan Stanley. The U.S. bank's 'trade of the week' is to buy the euro against the yen.
The euro has climbed more than 6 percent versus the greenback this year, set for its biggest annual increase since 2007. It was at $1.1180 by 4:10 p.m. London time on Wednesday. Banks including Credit Agricole SA, UniCredit SpA and ING Groep NV have recently raised their
forecasts
for the currency, with ING targeting $1.20 by mid-2018.
That comes after it tumbled a total 23 percent in the past three years, leading German Chancellor Angela Merkel to say this month that the currency was "too weak" because of European Central Bank policy. It is more undervalued than any G-10 peer in terms of purchasing-power parity, according to data from the Organisation for Economic Co-operation and Development.
After the region's struggle to emerge from the financial crisis, economic data are improving with recent euro-area manufacturing and retail sales beating analysts' forecasts. Inflation is also picking up, though there is a
divergence
of views among ECB officials on when to start removing monetary stimulus. Centrist Emmanuel Macron's victory in the French presidential elections against euro skeptic Marine Le Pen this month, and progress in Greek debt talks, have further spurred appetite for regional assets.
"We are already starting to see the euro moving in line with positive economic data surprises," Morgan Stanley strategists including Hans Redeker said in a note to clients. "Stronger growth means a stronger euro."
Article Link To Bloomberg: