Imports climb 14.8%, signaling domestic demand remains robust; Commodities purchases rise with global prices broadly stable.
Bloomberg News
June 8, 2017
China's overseas shipments accelerated from a year earlier, as global demand shows signs of picking up.

Key Points

-- Exports rose 8.7 percent in May in dollar terms, more than the 7.2 percent increase forecast by economists in a Bloomberg survey
-- Imports surged 14.8 percent in dollar terms, more than the 8.3 percent forecast
-- The trade surplus widened to $40.81 billion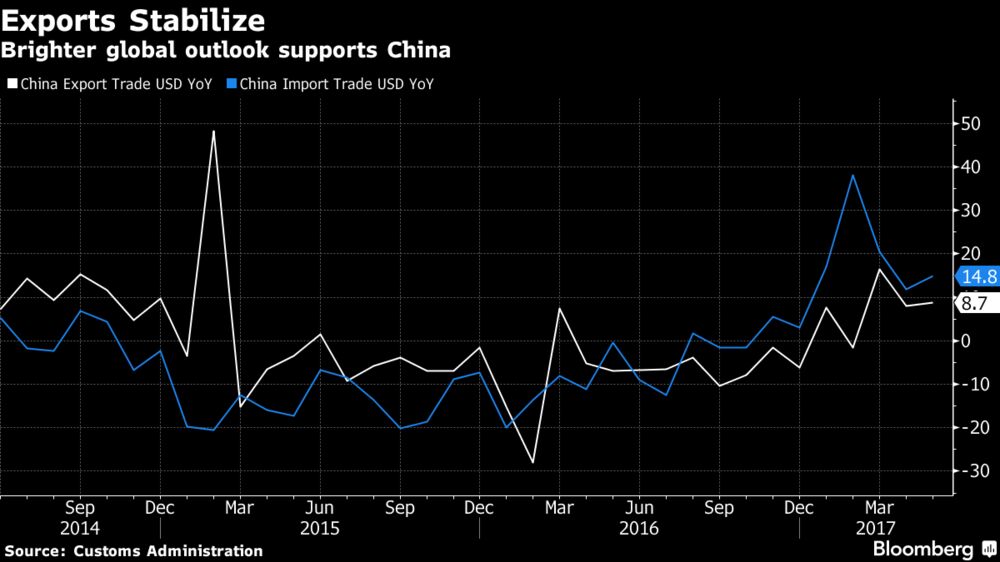 Big Picture
A brighter international outlook is supporting China's manufacturing machine, with the World Trade Organization saying it
expects
trade to "expand moderately" in the second quarter. After a solid start to the year, the domestic economy had shown signs of weakening momentum, though May's robust import figures could signal resilient domestic demand. While China's import data can sometimes be skewed by big moves in commodity prices--it's the world's top ore buyer--the value of commodities remained broadly stable over May.
Economist Takeaways

The economy still has strong momentum, with major export destinations such as the U.S. and Europe "operating in a steady way," said Yao Shaohua, an economist at ABCI Securities Co. in Hong Kong, who had the most accurate imports forecast. He sees full-year import growth rising to 10 percent and exports increasing by 4 percent. "It's good timing for regulators to cut financial leverage as the economy is strong. The PBOC will watch how the economy is doing when pacing its deleveraging efforts."

"Global external demand is strengthening," said Alicia Garcia Herrero, chief Asia-Pacific economist at Natixis SA in Hong Kong. "The trade surplus figures are quite good and even more so if you look at import and export figures in volume. Exports are ballooning."

"Imports, in particular, held up surprisingly well," wrote Julian Evans-Pritchard at Capital Economics in Singapore. "But given the approaching headwinds to the economy from policy tightening, we doubt this strength will last."


The Details
-- Imports of iron ore slipped to
$6.72 billion
in May from $6.86 billion
-- Imports of crude oil, steel products, copper and soybeans all rose in dollar terms
Article Link To Bloomberg: