Plans to slow costs may trigger big bills for states and providers while cutting options for the poor.
By John Tozzi
Bloomberg
June 22, 2017
Republicans who wrote a health care bill behind closed doors call it a repeal of Obamacare. But the legislation could fundamentally transform another federal health program that provides coverage to far more Americans than the insurance exchanges created by the Affordable Care Act.
It's called Medicaid.
The GOP plan that the House narrowly passed in May would cap how much the U.S. pays for Medicaid, the public health insurance program for the poor. That's never happened before. And it's a big deal—more than one-fifth of Americans depend on Medicaid for health care.
Created in 1965, the program covers
72 million
people at the bottom of the income ladder. You have to be near poverty to qualify: Depending on the state, single adults can make only $16,000 a year. The limit is about $33,000 for a family of four. Medicaid doesn't cover middle-class workers during their prime-age years, but many older adults
rely on the program to pay for long-term nursing home stays
in their final years.
Medicaid has always been an open-ended program, not subject to budget caps. The federal government pays more than half the costs, and states contribute the rest. States negotiate Medicaid payment rates with doctors, hospitals, and nursing homes. The program pays far less than private insurance or Medicare, the government insurance for people over 65. But Medicaid is obligated by law to pay for people who qualify, even if prices rise more quickly than the government anticipates.
Patients could be left on the hook for larger bills, or unable to find doctors willing to take Medicaid
The Republican plan would change that. It would limit Washington's contribution to state Medicaid programs, based on the number of people enrolled and the price level. How might this work? The details of the Senate bill are still closely held as Republican Majority Leader Mitch McConnell of Kentucky insisted on keeping the details secret.
One of the apparent
friction points
for his party colleagues is whether Medicaid funding should be pegged to the rate of inflation in the overall economy, or whether it should specifically track medical prices.
Billions of dollars turn on this technical detail. That's because medical prices started running away from the price of everything else starting about 30 years ago: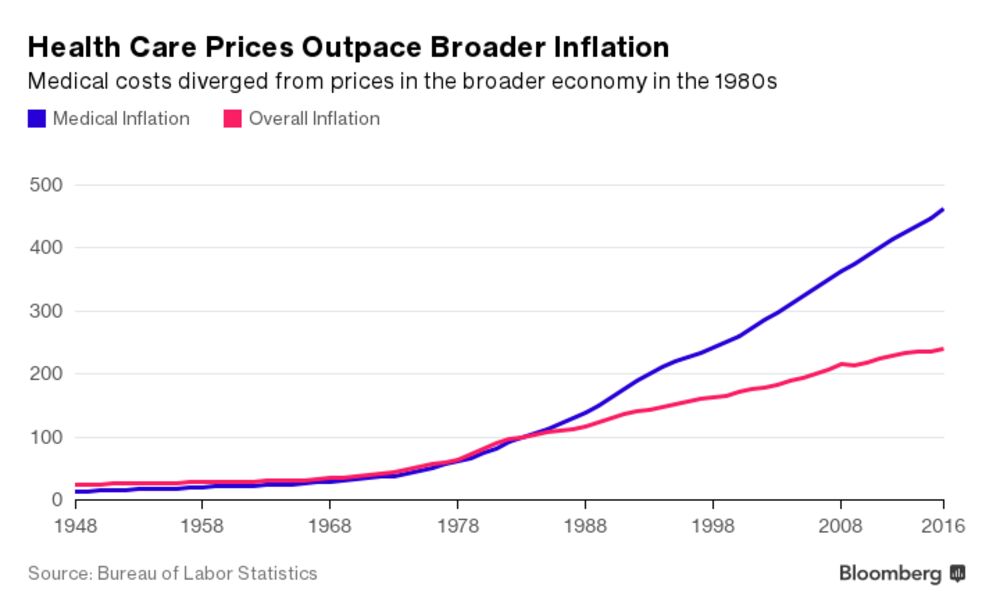 The version of the Obamacare repeal passed by the House, the
American Health Care Act
, would peg federal funding for Medicaid to the rate of medical inflation—the blue line—starting in 2020. That's the rate at which the cost of health care rises—everything from doctors' visits and prescription pills to MRIs and giving birth in a hospital. Washington would send states a set amount for each Medicaid enrollee, adjusted each year by that factor.
The House bill would also reverse an expansion of Medicaid eligibility in the Affordable Care Act. The Congressional Budget Office, Congress' nonpartisan scorekeeper, concluded that under that proposal
14 million Medicaid enrollees would become uninsured
in 10 years. It would reduce federal funds for Medicaid by $839 billion in the next decade, the CBO estimates.
The Senate is
reportedly considering
tying Medicaid funds to overall inflation—the red line in the chart above—starting in 2025. That would mean a far deeper reduction to Medicaid than the House proposal. How that differential would be rectified in conference committee between the two houses is anyone's guess.
Capping Medicaid isn't a new idea. Along with Medicare and defense spending, it's a huge part of U.S. government expenditures. Republicans have sought to limit the program for years. Even Democratic President
Bill Clinton floated the idea
in the 1990s.
So, perhaps a future with capped Medicaid could be informed by a look backward. Here's a rough attempt to show possible effects of a cap starting 30 years ago.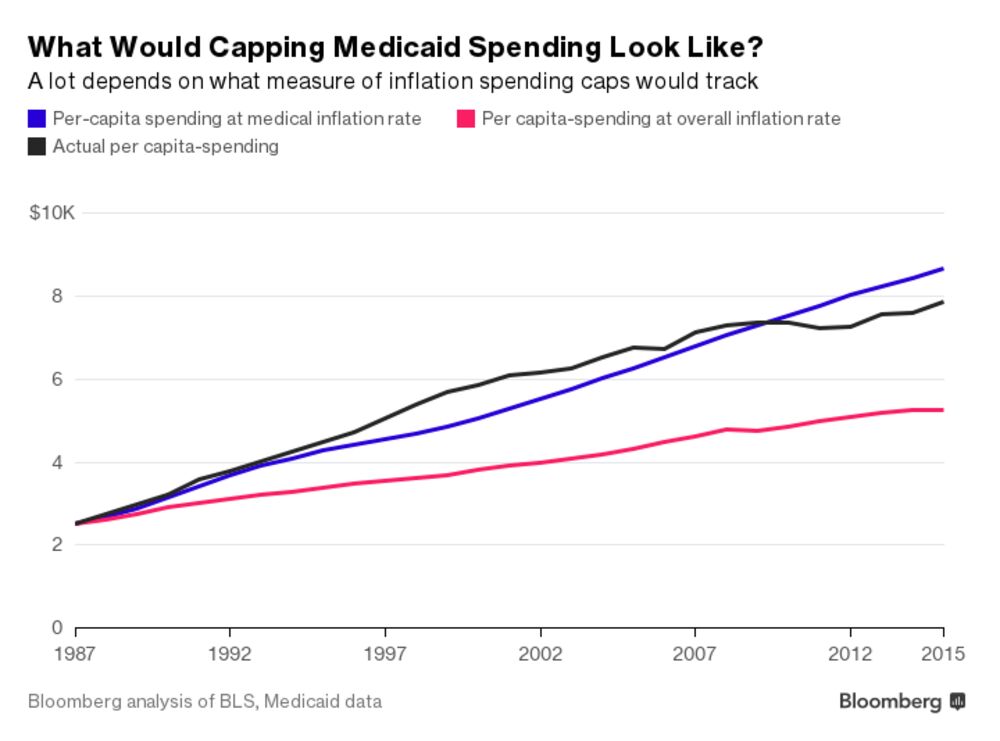 In 1987, Medicaid spent an average of about $2,500 per year on each beneficiary. That's a combination of federal and state funds. In 2015, the comparable number was about $7,900. If per-capita Medicaid spending grew at the same rate as medical prices, it would actually spend more—about $8,700. If it increased only as fast as overall inflation, the number would be $5,300.
Multiply those differences by tens of millions of patients, and you get annual differences of tens of billions of dollars that turn on what Congress is about to do.
For years Medicaid costs grew faster than both medical inflation and broader price levels. But in recent years, Medicaid has increased more slowly than medical prices.
This of course is a thumbnail sketch. The full consequences of such a policy depend on how the caps are enforced, and how states respond. Variation in prices among states and year-to-year changes could make a big difference.
But, as you can see in the charts above, the stakes for Medicaid in just one wonky detail of a sprawling health bill will affect the lives of tens of millions of people in the most personal way. McConnell wants only hours of public debate on this shift in how America cares for its most vulnerable, and a vote in time for July 4 vacation.
If patients' costs exceed what Medicaid can pay, the money has to come out of somebody's pocket. Some states might make up the difference, but
state budgets are already squeezed by Medicaid costs
. Doctors, hospitals, and nursing homes might take the hit, but they already lose money on treating Medicaid patients. Stingier reimbursements might discourage health care providers from accepting Medicaid patients at all.
The results of such a shift by the Republican-controlled Congress? Patients could be left on the hook for larger bills, or unable to find doctors willing to take Medicaid plans. Unable to afford care, the poor or near-poor might forgo care entirely.
Article Link To Bloomberg: