Sterling seen rallying to $1.31 if May wins a large majority; Currency may slump up to 7% if there is no clear verdict.
By Anooja Debnath and John Ainger
Bloomberg
June 7, 2017

The pound could plunge to as low as $1.20 on Friday, a level last seen in January, should the U.K. snap election lead to a hung parliament, according to a Bloomberg poll of analysts.

Such an outcome, though seen as unlikely, would be marginally more negative than even an electoral upset that sees the Labour Party defying odds to emerge the winner, according to the survey of 11 banks and brokerages. That suggests investors don't share Prime Minister Theresa May's view that when it comes to Brexit, not having a deal is better than a bad one. A victory for May's Conservative Party would be supportive of the pound, and this outcome is more or less already priced in, the analysts say.

That suggests investors don't share May's view that no deal is better than a bad one when it comes to this week's U.K. election. Of all the potential outcomes, including a win by the Labour party, a hung parliament would be the worst one for the pound, according to analysts surveyed by Bloomberg.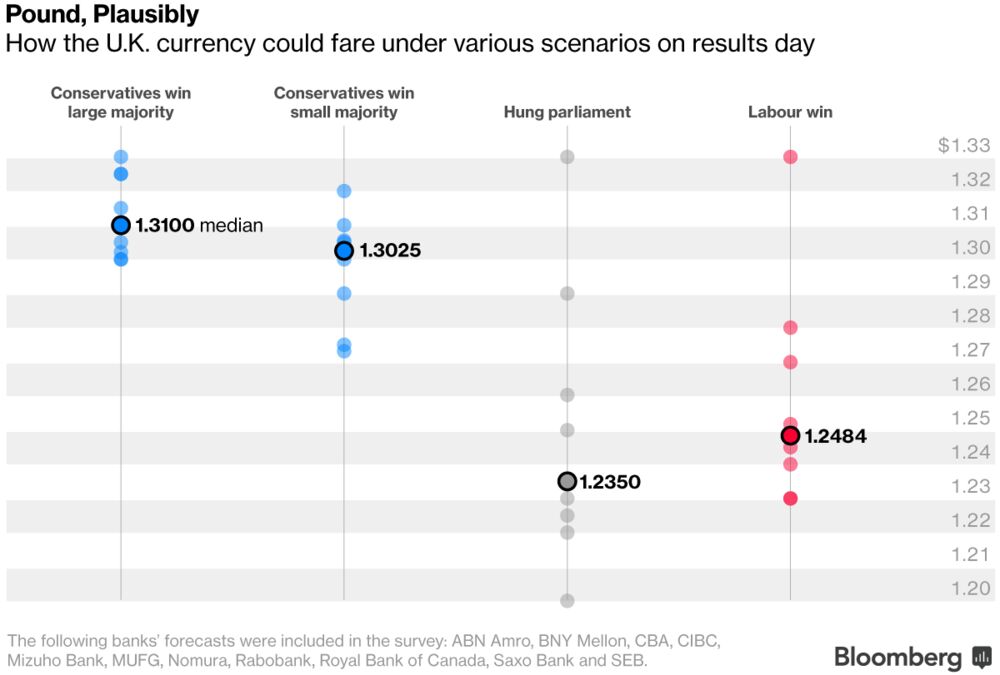 Analysts also highlighted that the shorter- and longer-term effects on the currency could be different. While a strong Tory win lends markets near-term certainty and helps sterling, over a longer period it could "increase the odds of a harder Brexit, which would probably be consistent with the pound being lower," Andrew Sheets, chief cross-asset strategist, said at a press conference in London on Monday.
Below is a compilation of analyst views on the election outcomes and potential pound reactions in the spot market:

Conservative Win (Large Majority)

-- As a Tory win seems already priced in, there's limited scope for sterling to rally on the news; still, this outcome is seen as the most positive for the pound immediately after the vote
-- Sterling is seen reaching $1.3100, according to the median of analyst estimates, with one predicting it to reach $1.3300, a level last seen in September 2016
-- "In the markets there is a very simple rule of thumb: the larger the Conservative majority becomes, the more positive it is for sterling," says Adam Cole, London-based head of global foreign-exchange strategy at RBC


Conservative Win (Small Majority)
-- This outcome, which was once seen as a tail risk, is now very much on the market's radar as Labour is slowly chipping away at the Tory lead in polls
-- Yet, the pound isn't expected to slide as a Conservative victory will still likely mean investors would wait for the Brexit negotiations to start for a better sense of how to trade the currency
-- The definition of what a small majority is also
differs
from analyst to analyst
-- The pound is seen at $1.3025, not far from current levels
Hung Parliament
-- This could be particularly damaging for the pound as it throws not only the future of the government in question but could also complicate and possibly delay the start of Brexit negotiations
-- The range of forecasts is the widest under this scenario with RBC's Cole seeing the pound falling to as low as $1.20. The median signaled a drop to $1.2350
-- With all the risks of a hung parliament, "being underweight the pound makes sense,"
says
Andrew Balls, chief investment officer at Pimco
Labour Party Win

-- A Labour win will hurt the pound in the short term, but could boost it further down the line as markets welcome the prospect of a softer Brexit and a boost to fiscal spending
-- "I think once the dust settles, the market will not see Labour as such a bad result," said Jordan Rochester, a foreign-exchange strategist in London at Nomura Holdings Plc
-- While an outright Labour win seems unlikely, a coalition with the Scottish National Party or the Liberal Democrats is considered possible
-- The median projection was $1.2484, which is slightly higher than the prediction for a hung-parliament scenario
-- The forecasts ranged from $1.33 to $1.23, with analysts divided on whether the prospect of a soft Brexit under a Labour government will support the pound or the ensuing uncertainty weigh on it
Article Link To Bloomberg: