Price of the new Bitcoin Cash plunged over the past week; Buyers look to activation of SegWit2x to resolve issues.
By Justina Lee
Bloomberg
August 7, 2017

Bitcoin extended gains to a record, ignoring a split in the cryptocurrency over its future.; Exclusive insights on technology around the world.

The digital exchange rate jumped as much as 16 percent from Friday to an unprecedented $3,292.41, even after bitcoin's division last week. The debate has revolved around how to upgrade its underlying technology, with a group of developers backing a solution called SegWit2x against miners -- some of whom have created an offshoot called Bitcoin Cash -- who want to increase the size of data blocks more drastically.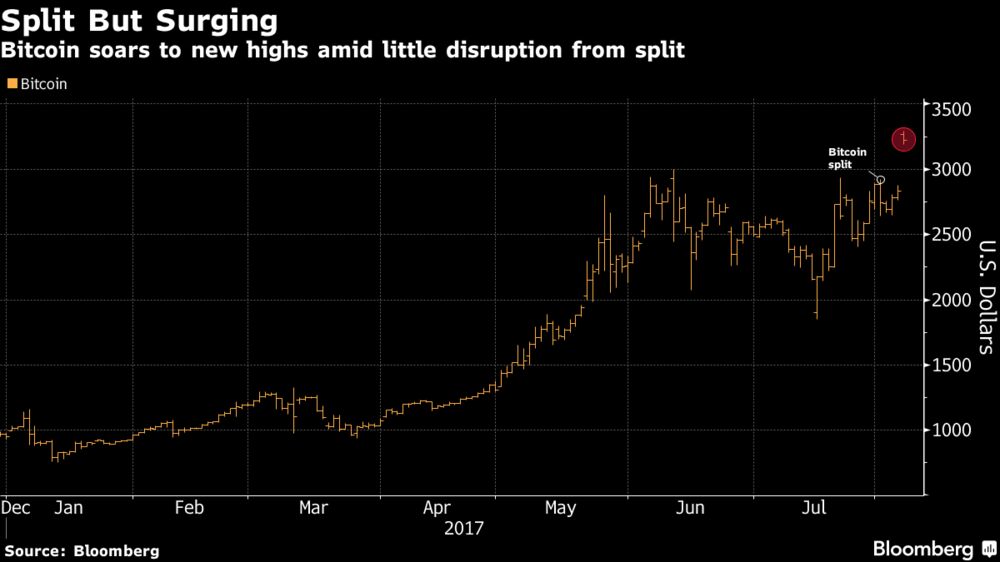 "The miner-orchestrated hard fork has had limited traction and will not impact the price or future development of bitcoin," said Aurelien Menant, chief executive officer of Gatecoin Ltd., a cryptocurrency exchange in Hong Kong, referring to the split. "The activation of SegWit is a significant milestone in bitcoin's technological evolution."
At the heart of the dispute is an issue that has dogged bitcoin's development: as its popularity grew, transactions slowed because of a cap on the amount of data processed by the blockchain. Under SegWit2x, some of that data will be moved off the main network while block sizes will be doubled to 2 megabytes in November -- a quarter of that for Bitcoin Cash. While the first step of SegWit2x has been locked in and the technology will probably be adopted at some point in August, infighting could disrupt the transition.
The price of Bitcoin Cash has plummeted 62 percent from a record high reached last week to $274,
CoinMarketCap
data show, bolstering the appeal of its older cousin. For now, Bitcoin Cash still pales in comparison to the original asset: the former has a capitalization of $4 billion, compared with the latter's $53 billion, according to CoinMarketCap.
"The scaling debate is not over yet," Menant added. "The promised 2 MB block size increase due in November in accordance with the SegWit2x agreement may still be rejected by certain stakeholders."
Article Link To Bloomberg: